Last October, I joined Fat Tire Tours' Versailles Bike Tour. As an itinerary planner, I took the tour for research to see if this was a way to visit Versailles that I should recommend to my clients.
Spoiler Alert: For those with a full day to spend in Versailles and the desire to be a bit more active in the way they visit, this tour is one of your best bets!
Château Versailles is one of Europe's greatest and most famous royal palaces. Located about an hour from Paris, it's also one of your best day trip options.
To truly appreciate the grandeur of this historic estate visitors should plan to explore beyond the palace itself and into the beautifully manicured gardens and the expansive palace grounds.
Fat Tire Tours' Versailles Bike Tour is one of several ways to visit Versailles. If you're interested in seeing if this is the tour for you, read on as I share my touring experience.
Prefer to watch my video of the tour?
MEETING POINT

The tour begins at a meeting point in front of Cafe Regalia in central Paris. Your guide will be easy to find in the small square across the street from the cafe (conveniently with a view of the Eiffel Tower).
I've taken several tours with Fat Tire and find that they consistently have fun, knowledgeable, and personable guides. Our guide was Eugenia and she was no exception. She's the kind of guide that makes you feel like you're hanging out with your cool friend all day. 
Cassie's Tip: The cafe makes a great pre-tour stop for breakfast. Allow about 20-30 mins before the meeting time – breakfast can be as quick as ordering coffee and a croissant to eat while standing at the bar.
TRAIN TO VERSAILLES

Eugenia walked us across the street to the train station, Gare de Javel. As we waited for our train to arrive, she presented to us a map of the expansive grounds and spoke about what we could expect during our tour.
When the train arrived, it was already packed full with commuters. Eugenia warned us ahead of time and assured us we would all get in and she would be the last of us to board. I barely made it in, and when I did, I sighed, "Oh boy." The guy next to me commiserated with me and said in his French accent, "It's always like this."
Luckily the train was only packed like this for two stops before most of the train emptied at the financial district. For the rest of the ride, our group of 18 people chatted together on the second level and got to know each other a little bit.
We had a great variety of people on the tour: a mother and daughter from Ohio, a couple from Texas, a lady from New York, and a father with three kids from California. Everyone was really excited about the day ahead!
BIKE PICK UP

Once we arrived at the station, it was a short 5 minute walk to pick up our bikes.
Fat Tire's bikes are high quality, in excellent condition, easy to pedal, and also come with a handy basket in front. As a family-friendly tour, they have bikes for all ages and helmets too.
We spent a few minutes getting to know our bikes and adjusting the seats before starting our bike tour.
VERSAILLES FOOD MARKET

Our first stop was Versailles' famous food market, Marche Notre Dame. This historic market has been here since it was established in the 17th century by King Louis XIII. It's the second largest food market in France and encompasses an entire square. While the market often spills into the square with outdoor vendors, on my visit only the four symmetrical indoor market buildings were open.
Here, Eugenia set us loose for 50 minutes to enjoy shopping for our picnic lunch. Before we began, she gave us some advice about what would make the perfect ingredients for our sandwiches and the variety we would find at the market. 
I could tell that everyone really enjoyed this free time in the market – and I was one of them. There is a great variety to choose from: meat, cheese, fish, produce, wine, olives, pastries, and more!
Cassie's Tip: Bring euros and plan to spend about €10-15 per person at the market.  Also, as a local market, most of the vendors didn't speak English. If you don't speak French or aren't too familiar with French foods, you might like to have your favorite translator app handy. 
BIKING TO THE GROUNDS

To get from the food market to the entrance of Versailles' grounds, we did have to do some biking through the city. However, Eugenia was very good at making sure we all stayed safe. We would "dominate" a lane in the road as a group and I never feared for my safety (or those of the three kids on our tour).
The grounds of Versailles are actually a public park. I saw a lot of locals going for a run or just enjoying a stroll along the paths. There is a security checkpoint at the entrance to the grounds, which we cleared through quickly and easily.
THE BIKE TOUR BEGINS

After security, Eugenia had us congregate at the entrance inside the park and pointed out a goat farm in the distance. The goats have been there for centuries. An interesting fact: Gordon Ramsay's Versailles restaurant, Au Trianon, has permission to use the milk from these historically royal goats to make cheese and other products.
From the farm, we rode about 10 minutes along a beautifully manicured tree-lined path. Soon we were biking alongside the iconic Grand Canal that dominates the center of the grounds.
Eugenia had us stop here to admire the scene; the Palace of Versailles at the top and, as King Louis XIV planned, the seemingly endless expanse of land beyond.
Welcome to Versailles.
PICNIC LUNCH

At 12:15 pm, after about an hour exploring the grounds of Versailles, we set up our picnic lunch. We laid down a large blue tarp on the lawn by the central canal with a direct view upon the palace in the distance.
Eugenia provided us with everything we needed to turn our market goodies into a delicious French picnic. She had knives, cups, napkins, and a bottle opener for those that purchased wine at the market (or, in my case, a French cidre).
PETIT TRIANON

One of the great things about this Versailles Bike Tour, when compared with other tours that cover the grounds of Versailles, is that it includes access to visit the interior of the Petit Trianon.
Before touring the Petit Trianon, Eugenia provided us with some context of its history. It is most famous for becoming Marie-Antoinette's private home after her husband King Louis XVI gifted it to her shortly after they married. Often looking to get away from the judgment and duties of the royal family and court, Marie-Antoinette spent most of her time here as a refuge from the palace.
We were free to explore for 15 minutes on our own before Eugenia led us further into Marie-Antoinette's private spaces with a walk into the gardens and to her nearby hamlet.
THE QUEEN'S HAMLET

The Queen's Hamlet is easy to miss on your own, but that's where the value of joining a tour becomes evident. Eugenia led us down scenic walking paths to what felt like another world just a short walk beyond the Petit Trianon.
Surrounding a large artificial lake, Marie-Antoinette commissioned this little village, lined with cottages, a windmill, and a working farm for her own private use and enjoyment. She would host small parties here, stroll the walking paths, and pretend that she was in another place – far removed from the walls of Versailles.
And as a visitor, you will think you were transported somewhere else as well.
VISITING THE PALACE

As they say, "all good things must come to an end," and so, by about 3:45pm, we were back near the Versailles train station and returning our bikes.
Eugenia walked the group to the palace and ensured that we were able to skip all of the entry lines and enter with our audio guides. Then it was time to say "au revoir" to Eugenia as this tour does not include guided visit of Versailles.
On this particular day, the palace closed at 6pm. While starting your tour of Versailles late in the day may not seem ideal – it's actually your best chance of navigating the palace without crushing crowds. By 4:30pm, I was in the Hall of Mirrors and practically had this stunning room all to myself. 
Cassie's Tip: Chateau Versailles is one of the most crowded sights in Europe. Smart travelers can avoid the crowds by visiting the interior early or late in the day. Also, avoid weekends and Tuesdays (with The Louvre closed on Tuesday, travelers flock to Versailles instead). 
PALACE GARDENS

After visiting the palace, I highly recommend spending time exploring the marvelously manicured gardens. Louis XIV designed these gardens to impress – and they still do today as they would have in the days of his hosting parties for dignitaries.
From the gardens, you'll have an opportunity to look down upon the mile-long Grand Canal and the expansive grounds that you just had the privilege of spending a day exploring by bike. With time and interest, you'll want to walk down to the Apollo Basin to get a closer view of the fountain that depicts the sun god in his chariot. The way the fountain was designed, it almost looks like the horses are about to jump out of the water.
FAT TIRE VERSAILLES BIKE TOUR: IS IT RIGHT FOR YOU?

If you're anything like me, you may have some lingering questions that go beyond the tour itinerary before you make a decision to join. Now that I've experienced this tour first-hand, I can share with you some of what I observed and experienced:
The actual biking part of the full day tour was about 4 hours including our 45-minute lunch break. Fat Tire notes that the entire biking route is 10 miles – a figure that surprises me. It sounds more intimidating than it actually feels.


The tour proceeds at a comfortable pace. Typically, we would not bike for more than 20 minutes before making a stop to either visit a site, such as the Petit Trianon, or to enjoy a scenic view. 


Stops along the way were enriched with the context that Eugenia provided. Versailles has a lot of stories to tell and Eugenia made these historic stories very engaging – never boring!


The tour participants were of all ages and fitness levels. Aside from one minor hill as the tour approaches the Petit Trianon, the paths were even and the terrain flat. 


The children on my tour (aged 12-14 years) appeared to be engaged and interested all day. I give a lot of credit to Eugenia for keeping the tour interesting and inviting the kids to ask and answer questions.


This bike tour would be great year-round. My visit was on a cloudy October day, but considering that many of my clients and readers travel during the summer, I took care to notice how much time we spent under the shade of trees. I am confident that even in the heat of the summer, biking at Versailles will be a comfortable experience.
HOW WILL YOU VISIT VERSAILLES?

Versailles is one of the most famous and popular destinations in Europe. But what many people may not know is that some of the best of what the palace has to offer is actually not in the interior of the palace, but in the gorgeous gardens and expansive grounds.
With several ways to visit to choose from, there is truly an option for everyone. When crafting custom travel itineraries for clients it is my top priority to find and present the options that best suit their interests and preferences.
For those who appreciate having an opportunity to explore and be a little bit more active on their vacations, this Versailles Bike Tour is one of the most enjoyable – and most efficient – ways to spend your time and see all that Versailles has to offer.

At Montage Travel, I'm helping travelers see and do more by crafting custom travel itineraries to European destinations. If you're planning a trip to Paris, check out my three Travel Planning services to learn more about all the ways I can help your travel dreams become treasured memories.
These opinions are my own. I am not affiliated with Fat Tire Tours and was not paid or given a free tour to write this review.
SAVE TIME. AVOID FRUSTRATIONS. EXPERIENCE A BETTER VACATION.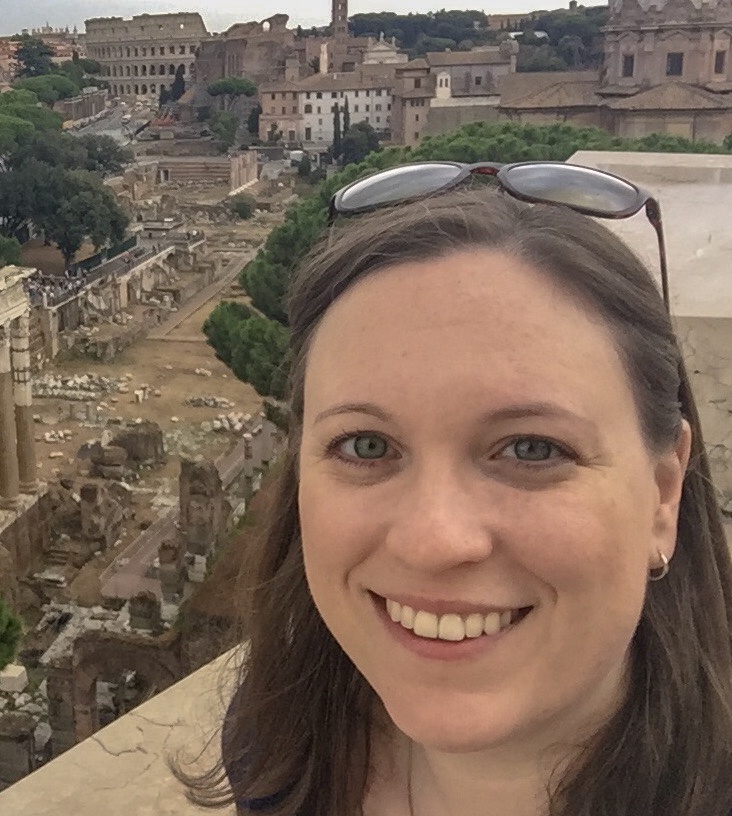 Hi, I'm Cassie! Here at Montage Travel, I'm crafting custom itineraries for independent travelers who want to make the most out of their valuable vacation time in Europe (who wouldn't?).
My mission is to ensure travelers like you save time on planning and experience frustration-free trips with a well-optimized itinerary. Each and every itinerary I create is made from scratch and tailored specifically to your interests, travel pace, and preferences. An optimized itinerary and practical travel advice go hand-in-hand and are essential factors that will determine how much you will enjoy your vacation. Equipped with your own itinerary, you'll see more by visiting sites during less crowded times, you'll know which museums are best explored independently and which are enriched by visiting with a guide, and you'll avoid getting lured into a tourist trap restaurant that will cost you more and be less authentic than the restaurant I'll point you towards just down the street that caters mostly to locals.
Travel with confidence. Itineraries include unlimited revisions and unlimited 1-on-1 travel advice.