When it comes to authentic travel experiences, European river cruises are hands-down one of the best options to explore inland Europe, giving access to unique viewpoints, and making it possible to discover villages, towns and cities in ways that trains, cars or big ships simply don't allow.
Like waterproof hotels that double as their own adventures, river cruise vessels cocoon its guests in comfort, while gently drifting past some of the Old Continent's classic destinations and dazzling hidden gems – all without the hassle of researching, plotting, or even re-packing a suitcase.
From immersive itineraries to on-shore activities and convenience – here's a list of reasons why I believe you really should consider adding European river cruising to your travel bucket list!
(Oh, and if you're curious about special interest and themed cruises, be sure to check out my Themed River Cruises in Europe article!)
1. SCENIC SAILING

You know how some trips feel rushed, and nothing is truly savored because there's so much to see in such little time? Well, river cruising offers a whole different experience, allowing passengers to see more of the world at a comfortable pace.
While gently drifting along the majestic European rivers, guests benefit from having plenty of time to relax and soak in the beautiful and immersive views when passing through scenic stretches such as the Rhine Gorge and Danube's Wachau Valley.
And the best part is: the options for cruising in Europe are as diverse as its myriad destinations! Wind past bustling cities, old-world cultures, vibrant meadows, fabled castles, picturesque wine-growing regions, and richly historic towns. There's just so much to marvel at!
Cassie's Tip: While many cruises might look similar at first, each one has its own unique features, resulting in completely different experiences. If you're wondering which is the best option for your own personal travel style, take a look at my Tour & Cruise Matchmaking service!
2. CONVENIENCE – SIMPLY UNPACK AND ENJOY!

Traveling on a cruise ship puts you in a moving hotel where your luxurious cabin is your home for the entire duration. You'll never have to worry about navigating through customs, flight terminals, or crowded public transportation.
River cruising gives you the continuous movement and freedom combined with the convenience and comfort of a luxury hotel. You literally get the best of both worlds; waking to a new horizon every day without the hassle of lugging your bags around with you for the whole trip!
3. GREAT VALUE

There's a reason why river cruise ships are often called "floating hotels." Lush accommodations, exquisite meals, drinks, entertainment, and often onshore activities are included in the fares which makes river cruising a great value choice to any traveler wishing to get the most out of his European adventure.
Aboard ships of roughly one to two hundred passengers, everything is taken care of for you, and you're left with what I personally believe to be the true purpose of travel: to experience something new!
4. INTIMATE & SOCIAL

With (much) fewer cabins and passengers than its ocean counterpart, river cruising is all about smaller vessels and a more intimate and social experience.
You can essentially meet everyone onboard (if you want to) over the course of a week-long sailing, offering the opportunity to engage in conversation with the crew and fellow passengers, make lifelong friends, and share amazing stories.
On the other hand, a smaller vessel also means a more intimate vacation setting with staff focused on each guest's needs, and couples enjoying private space or quiet moments aplenty.
5. MORE TIME IN PORT

Because of their smaller size, river ships have the ability to dock in the center of both large cities and small towns alike, allowing passengers to be in the heart of the action the moment they step ashore. This means less time wasted with logistics and transport, and more time to explore!
Some cruise lines offer a selection of activities to suit different interests such as cycling or walking tours for active cruisers, cooking demonstrations and wine tastings for food lovers, or even enjoying a private Mozart recital or savoring a meal with a local family.
Cassie's Tip: If you're already thinking of taking a river cruise but don't know which operator to choose, I've added a few suggestions at the bottom of this article with a brief description of the best things about each.
6. FOOD & DRINKS

Renowned for overall luxury, the gourmet side of river cruising is probably one of its biggest selling points.
Drawing inspiration from the regions you travel through, chefs use the finest and freshest local ingredients to treat their guests with mouth-watering breakfasts, multi-course dinners, and out-of-the-ordinary cocktails.
Some cruises also theme their meals to match your surroundings, elevating the experience to a whole new level. Imagine gliding through Bordeaux enjoying a full-bodied red or feasting on hearty Bavarian fare in southern Germany, under a starry night, at the sound of smooth classic music…. Yes, please!
SUGGESTED EUROPEAN RIVER CRUISE LINES
With so many options to choose from, shopping for European river cruises can be confusing – especially within its mid-tier price range. And while most cruise lines have overall high standards and similar inclusions, I find that there are a few operators that stand out in terms of quality and value.
AVALON WATERWAYS

Avalon Waterways' cruises provide a special experience for those who want to discover Europe in their own way, enjoying the spectacular scenery from luxurious staterooms equipped with unique open-air balconies and beds facing the incredible views.
Stand-out features:
Wall-to-Wall Panoramic Windows – as the ship drifts on Europe's picturesque rivers, guests can enjoy the fresh breeze and enchanting scenery from the comfort of their Panorama Suite, with view-facing beds for the ultimate in relaxed luxury.
Suites 30% larger than the industry standard
Activities:
Choose from "Classic", "Active" and "Discovery" excursions at most ports.
Hands-on cultural and artistic experiences
On-board karaoke and movie night
As part of the Globus Family of Brands, extend your vacation with pre- or post-land tour with Globus Journeys
Rivers sailed:
Danube, Main, Moselle, Rhine, Rhone, Seine
AMAWATERWAYS

Best known for its industry-leading initiatives and outstanding focus on guest experience, AmaWaterways is the premier cruise line on Europe's Danube, Rhine, Main, Moselle, Seine, and Rhone. From custom-made ships, special onboard amenities, cabins with one or two balconies, to special interest excursions and full-board gourmet cuisine, AmaWaterways river cruises make for a collection of unforgettable experiences.
Stand-out features:
Extreme focus on guest experience and comfort
Perfect for foodies! Uniquely among river cruise lines, AmaWaterways is partnered with La Chaine des Rotisseurs – one of the world's most prestigious culinary organizations. The food is always of a high standard and faithfully reflects the best of European cuisine. AmaWaterways is also a fantastic option for wine lovers, having run 60 wine cruise itineraries in 2019!
Connecting staterooms and larger occupancy accommodations for families, and smaller ones to cater to solo travelers
Activities:
Unlike most cruise lines where you end up paying for optional extras, ALL AmaWaterways' excursions are included in the fares. Guests can choose from gentle, regular and active tour paces, and there are even some options for late risers.
Special Interest port tours
Guided bike & hike tours
Rivers sailed:
Danube, Dordogne, Douro, Dutch & Belgian waterways, Garonne, Main, Moselle, Rhine, Rhone, Seine
UNIWORLD: BOUTIQUE RIVER CRUISES

Uniworld is the only truly all-inclusive cruise line, featuring the finest and most luxurious ships with an average capacity of 130 guests and the highest staff-to-guest ratio in the industry. The company offers world-class gourmet cuisine, outstanding hospitality, enticing on-shore excursions, and numerous other all-inclusive benefits.
Stand-out features:
The only truly all-inclusive option among the European river cruise lines
Room service and personal butler (suite level only)
Onboard fitness center
Drinks 24/7
Lavish decor
Cruise some of the smaller European waterways that other cruise lines don't
Activities:
Curated Services – fully customizable experiences for guests looking to treat themselves with a special and private experience just for them
Wellness classes with certified instructors
Active excursions feature walking, hiking, cycling, kayaking and golfing activities
"Live like a local" experiences
Rivers sailed:
Danube, Dordogne, Douro, Garonne, Main, Moselle, Po, Rhine, Rhone, Seine, Soane
TOUR & CRUISE MATCHMAKING

As you can see, river cruising through Europe is a delightful way to vacation. Several cruise lines operate along the major waterways and narrowing down the choices to find the best one for you can be a challenge.
I have developed a detailed travel questionnaire as a part of my Tour & Cruise Matchmaking service. This is one of a few steps that I take to get to know your personal travel style and preferences into account before making specific recommendations on cruise lines, itineraries, and cabin categories.
So, if you're dreaming about cruising down one of Europe's waterways for your next vacation, contact me and we'll discuss the next steps that will take you closer to making that dream a reality.
SAVE TIME. AVOID FRUSTRATIONS. EXPERIENCE A BETTER VACATION.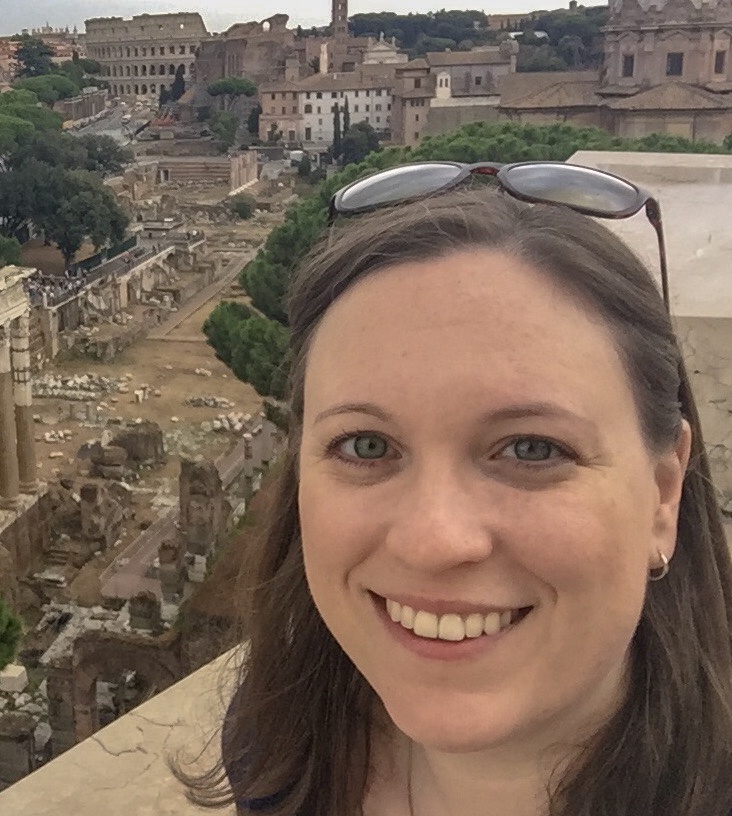 Hi, I'm Cassie! Here at Montage Travel, I'm crafting custom itineraries for independent travelers who want to make the most out of their valuable vacation time in Europe (who wouldn't?).
My mission is to ensure travelers like you save time on planning and experience frustration-free trips with a well-optimized itinerary. Each and every itinerary I create is made from scratch and tailored specifically to your interests, travel pace, and preferences. An optimized itinerary and practical travel advice go hand-in-hand and are essential factors that will determine how much you will enjoy your vacation. Equipped with your own itinerary, you'll see more by visiting sites during less crowded times, you'll know which museums are best explored independently and which are enriched by visiting with a guide, and you'll avoid getting lured into a tourist trap restaurant that will cost you more and be less authentic than the restaurant I'll point you towards just down the street that caters mostly to locals.
Travel with confidence. Itineraries include unlimited revisions and unlimited 1-on-1 travel advice.