Traveling during the holiday season in Europe, which runs from early December until early January, is something I think everyone should do at least once.
There's nothing quite like getting the opportunity to see how other countries, cities, and cultures celebrate the season. In cities and towns of various sizes, you'll see the local people spilling out into the streets each night, shopping, eating, drinking, singing, dancing, and socializing. And as a visitor, you're warmly invited to mix with the locals and join the party.
The holiday season in Europe provides one of travel's most enriching experiences. To inspire your travels, let's take a look at just 7 of the best places to enjoy the season.
Paris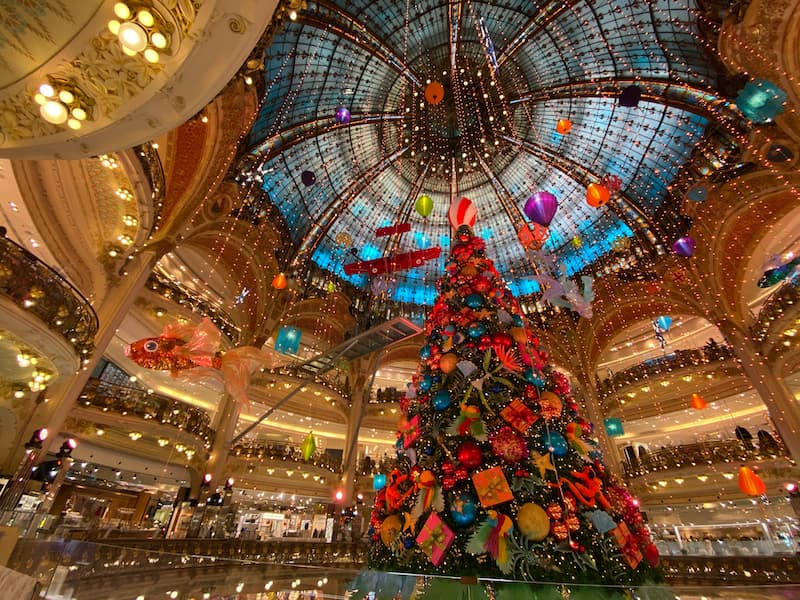 In December, the beauty of the "City of Lights" is amplified by lighted decorations and creative artwork that transforms the city into a real-life winter wonderland.
The festive ambiance includes tree-lined streets adorned with holiday colors, illuminated architecture, Christmas markets, and ice skating rinks dotted throughout the city.
In addition to visiting some of the many Christmas markets in the city – there's one in just about every neighborhood – you must also visit the Galeries Lafayette Department Store.
Every year, this high-end shopping destination goes all-out with an elaborate Christmas display and a huge Christmas tree under their famous glass dome roof. Outside the store, there are gorgeous Christmas window displays that typically tell a story as you progress from one to the next.
Budapest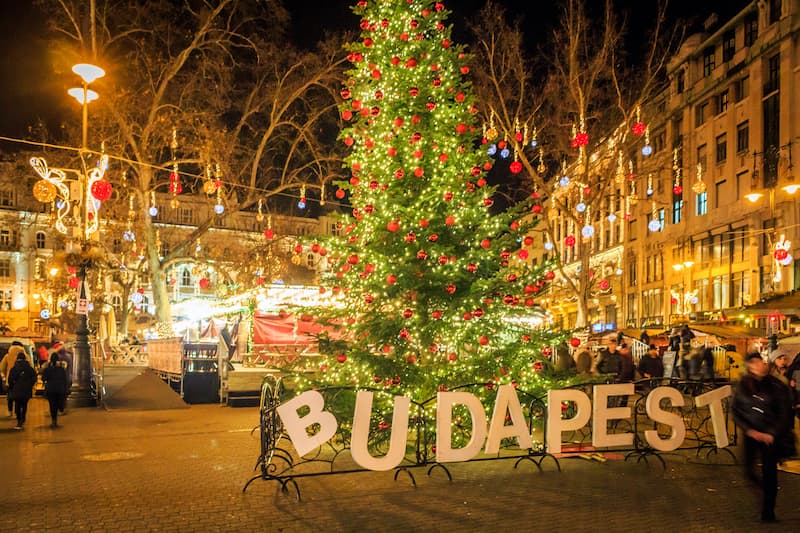 This jewel of the Danube is usually the first city to kick off the holiday season in Europe. Winter celebrations in the city combine traditional dances, folk music, and colorful Christmas market stalls perfumed with the scent of Hungarian stews, fresh langos bread, and steamy cups of mulled wine.
But there's so much more to Budapest than "just" foodie treats and magical Christmas markets. Visitors can also go ice skating in the fairy setting of Europe's largest outdoor ice rink; ski (or sled) down the adventurous Buda hills, watch Nutcracker's annual performance at the Opera House or explore the iconic Buda Castle and its historic caves.
And what better way to wrap up the day than by relaxing at one of the many thermal baths or unique ruin bars the city has to offer?
Rome and Vatican City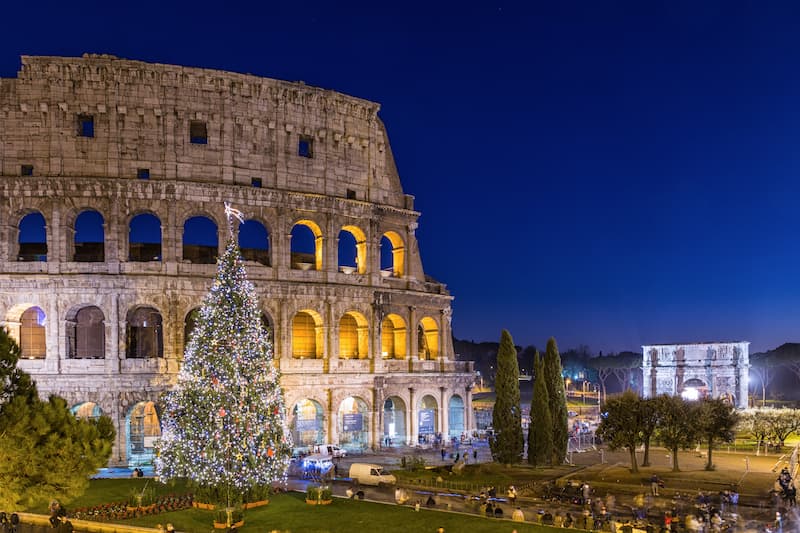 Rome is an especially interesting place to visit during the holidays. In particular for visitors interested in observing or taking part in some of the religious Christmas traditions – many of which originated here.
One of the largest Christmas trees in the city is, appropriately, located in St. Peter's Square. If you time your visit with Christmas Eve, you'll want to make your way here for the unveiling of the Vatican's life-size nativity scene – called a presepe in Italian – and attend the Pope's Midnight Mass. And, at noon on Christmas, attend the Pope's address to the world and receive a blessing.
Back in the city center, it's a thrill just to walk down the main streets. Once the sun sets, the scene comes alive with glowing holiday lights, carolers walking around singing, the smell of roasted chestnuts, and pop-up street vendors. Make your way over to Piazza Navona for a visit to Italy's largest Christmas market – complete with a carousel for the kids.
Also, did you know that Rome is home to one of Europe's most historic Jewish populations? Each year, the city displays a huge 20-foot tall menorah in Piazza Barbarini. Each night of Hanukkah one of the candles is lit (you can watch it happen at 6 pm). And, on the final night of Hanukkah, join the locals at the Hanukkah Street Party where there's plenty of music, dancing, food, and drink!
There's so much more I could tell you about Rome…ice skating, nativity displays, Christmas concerts in the churches, Christmas trees in iconic locations such as by the Colosseum, La Befana… but I'll leave here for now.
Christmas Market River Cruise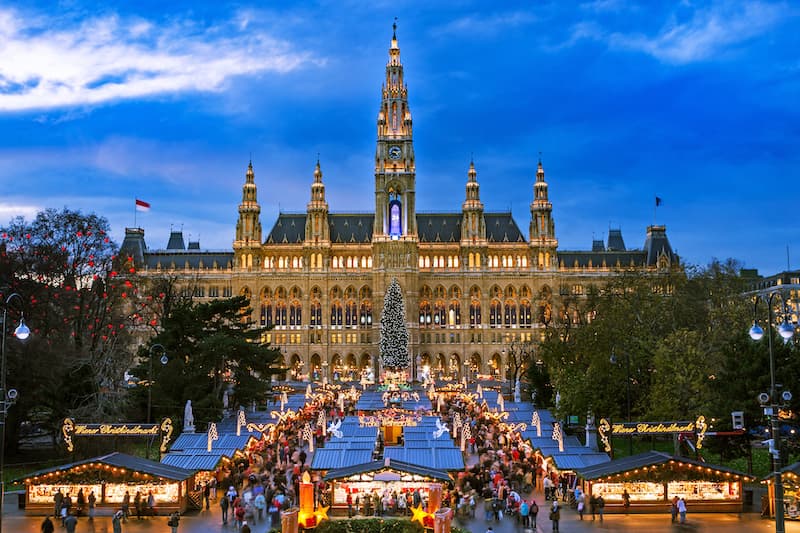 Why stay in one city, country, or region when you can cruise through 4-5 counties visiting a new city, town, or village each day? As the scenery changes, so does the food and the customs, keeping your adventure fresh and interesting each day.
The most popular Christmas market river cruises sail along the Rhine and the Danube rivers. Along the Rhine, you'll discover smaller towns with charming smaller-scale markets as well as visit some of the bigger "Bucket List" Christmas markets, such as ones in Cologne, Germany, and Strasbourg, France. And on the Danube, prepare to be blown away by the distinctive ambiance as you sail through Central and Eastern Europe. Several itineraries include the largest market in Germany in Nuremberg, sparkling Vienna, and the aforementioned Budapest.
Don't let choosing a river get too daunting – you can't go wrong with either choice (and I can help). Truth is, it's highly likely that you'll enjoy the experience so much that you will return for a repeat holiday season in Europe on the other river!
These cruises are very popular, so if you're considering one, I recommend booking as early as possible because they often sell out!
London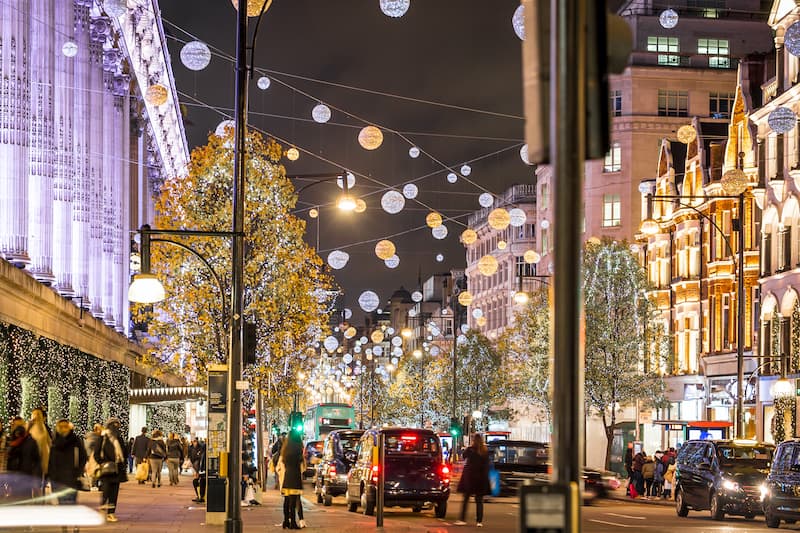 London, lovely London – a personal favorite, and probably the European destination with the widest diversity of attractions, activities, and entertainment available for travelers of all kinds and ages.
Seeing London dressed up for Christmas is a trip you will remember forever. In addition to many Christmas markets, the entire city feels fizzy and festive, with that unmistakable feeling of having walked through a beautiful portal into a magical world.
Get swept away in the dazzling street decorations on Regent, Oxford, and Carnaby Streets, take the kids to Hamley's Toy Store, and snap your annual family photos with the gigantic Christmas trees in Trafalgar Square and at Covent Garden.
Wander over to Hyde Park's Winter Wonderland for a lively carnival-like atmosphere with Christmas market stalls, an outdoor ice rink, exciting themed rides and games, thrilling circus shows, and Santa's Grotto.
And because Christmas also means gifts and yummy treats, consider joining a gingerbread house making workshop at the Museum of Architecture, or up-scale gift hunting at the perfectly decorated Harrod's or Selfridges Dept Stores.
Munich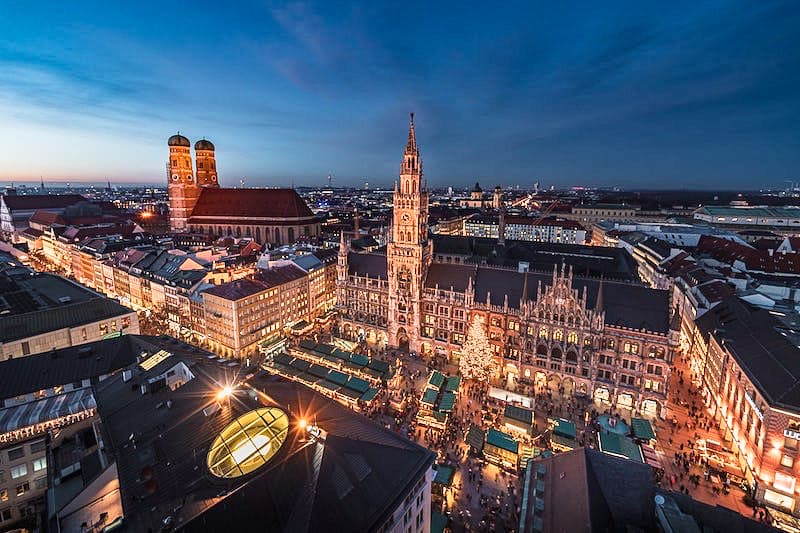 Germany founded the original Christmas markets and that's just one of the many reasons why you should visit this country to experience them. If there's one city in Germany that really does it big – it's Munich with its 28 different markets.
Yes – 28! Making it perhaps the destination for a holiday season in Europe.
With one city playing host to so many markets – you can imagine that the variety is impressive. You'll find markets that vary between traditional and classic to unconventional, unique, and quirky (for details, check out my article on the Munich Christmas markets). An entire trip itinerary could be built around visiting these different markets!
Christmas in Germany means socializing, sipping mulled wine (glühwein), munching on German gingerbread (Lebkuchen), and soaking up the distinctly German ambiance. Even with an estimated 3 million attendees each year, the markets maintain a charming and very local feel.
Edinburgh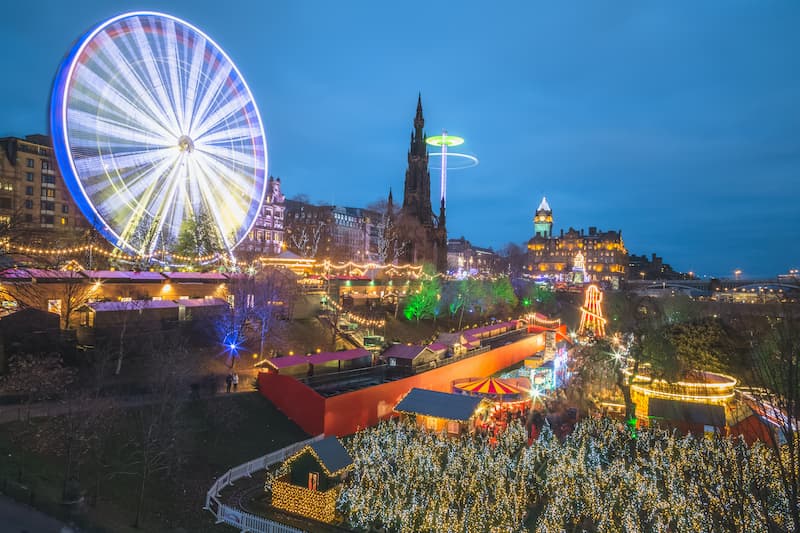 Scotland's capital city during the holidays? Just say, "Aye!"
Decorative lights, fairground rides, hot food stands, a Ferris wheel, ice skating rinks, and – of course – multiple traditional German Christmas markets (with a Scottish spin!)
The entire event is family-friendly, but one thing you won't want to miss is introducing your kids to the real-life reindeer at Santa's Reindeer Garden. You can walk around the pen and pose with them for priceless photos!
And, if you time your trip dates to coincide with it, don't miss watching – or participating in – the adorable Santa Fun Run & Walk where participants of all ages dress as Santa and run 2 laps around West Princes Street Gardens!
One thing is for sure, no matter what you decide to see and do during a holiday season visit to Edinburgh, you'll find yourself swept up in the excitement alongside the friendly locals (and likely make a friend or two along the way!).
Where will you go during the holiday season in Europe?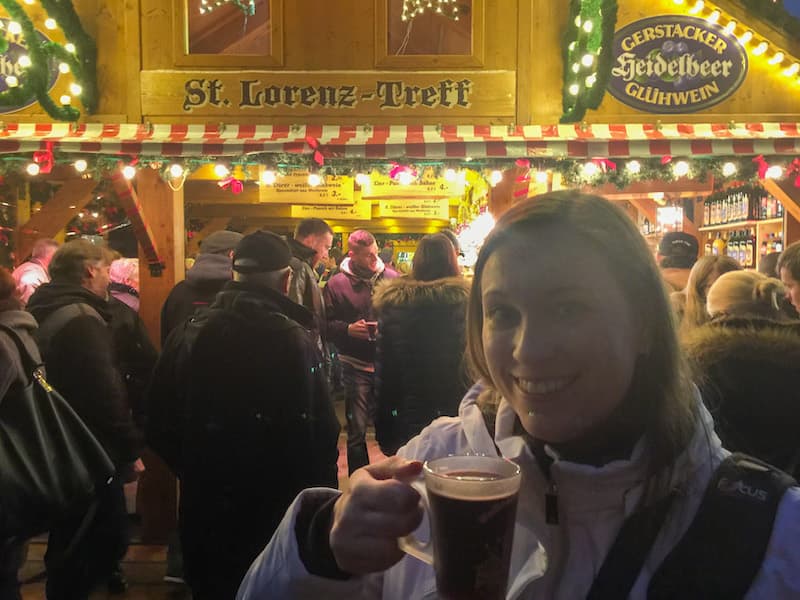 These are just a sampling of the several unique and tempting travel destinations you could visit during the holiday season in Europe. Each destination has experiences so unique to them that choosing where to go might seem like a challenge. But, once you've narrowed down your trip objectives, a clear favorite (or a few) will emerge.
And if you need help making your decision or would like me to design a custom travel itinerary for you, contact me for a complimentary trip planning session!
SAVE TIME. AVOID FRUSTRATIONS. EXPERIENCE A BETTER VACATION.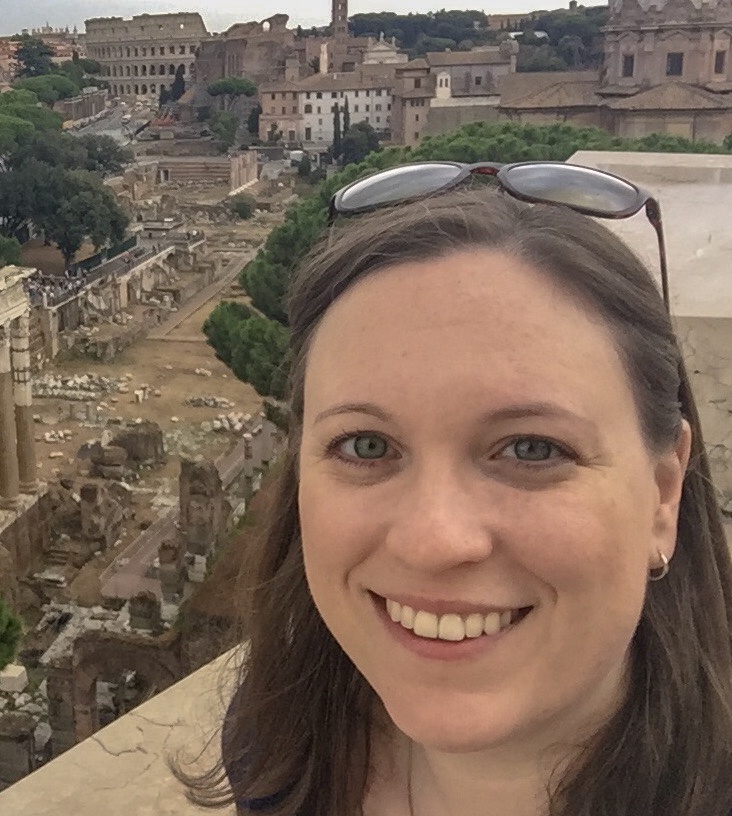 Hi, I'm Cassie! Here at Montage Travel, I'm crafting custom itineraries for independent travelers who want to make the most out of their valuable vacation time in Europe (who wouldn't?).
My mission is to ensure travelers like you save time on planning and experience frustration-free trips with a well-optimized itinerary. Each and every itinerary I create is made from scratch and tailored specifically to your interests, travel pace, and preferences. An optimized itinerary and practical travel advice go hand-in-hand and are essential factors that will determine how much you will enjoy your vacation. Equipped with your own itinerary, you'll see more by visiting sites during less crowded times, you'll know which museums are best explored independently and which are enriched by visiting with a guide, and you'll avoid getting lured into a tourist trap restaurant that will cost you more and be less authentic than the restaurant I'll point you towards just down the street that caters mostly to locals.
Travel with confidence. Itineraries include unlimited revisions and unlimited 1-on-1 travel advice.
MORE FROM THE MONTAGE TRAVEL BLOG