European Travel Itineraries for Frustration-Free Vacations
Travel Europe easily and confidently with an expertly crafted custom itinerary that will optimize your sightseeing – so you won't miss a thing.

EXPLORE CITIES YOUR WAY
Travel with an itinerary as unique as you are.
With Montage Travel, there is no such thing as a one-size-fits-all itinerary. Once I've gotten to know you and your travel companions' interests, style, and travel goals, I'll get to work crafting your dream trip.
You'll receive a detailed itinerary packed with recommendations you'll love – sights, activities, restaurants, and more.
You also get unlimited itinerary revisions because I'm not happy until you tell me, "it's perfect!"

UNLIMITED TRAVEL ADVICE
Travel like a pro with my tried-and-tested travel advice.
Overwhelmed by all of the opinions and advice online?
Bypass all of that noise and get direct access to me – a passionate travel advisor with over a decade of experience traveling Europe and crafting travel itineraries.
Not only will I answer your every question and provide a ton of practical advice during the planning process, but your itinerary will have all of my best destination-specific tips built into it for easy reference.

FRUSTRATION-FREE TRAVEL
Arrive at your destination with the confidence of a return visitor.
Imagine the gift of a frustration-free vacation: Arriving at your destination equipped with a detailed point-to-point itinerary that has been thoughtfully optimized just for you (see Sample Itinerary).
Insider tips and advice that will save you time so you can see and do more – in the right order, at the right time, and on the right day.
The secret to a stress-free and memorable European vacation is all in the preparation – and I've got you covered!
Your Custom European Itinerary Includes:
Door-To-Door Itinerary Package
Everything you need for a smooth trip.
Unlimited Travel Advice
Unlimited Q&A, insider travel tips and trusted recommendations:
Booking & Reservations
Save time at your destination with pre-booked tickets and reservations.
Are you ready to give yourself the gift of a stress-free European vacation?
Contact me today for your free 20-minute no-obligation trip consultation call.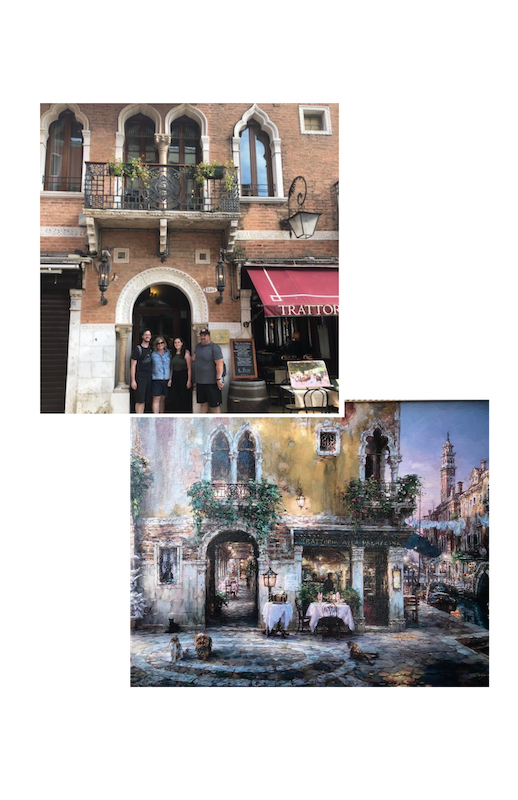 Meet the Lombardo Family
Destination: Rome, Venice, and Paris
Trip Type: Family Vacation
Trip Duration: 10 Days
Travel Style: This was their first trip to Europe and so they wanted to see as many of the big sights as possible, stay at city center hotels, and explore the authentic neighborhoods by foot.
Special Request: To visit the real-life restaurant that appears in a painting that the family has had hanging in their living room for 25 years. It was a trip highlight for them when they dined here (pictured)!
Cassie was fantastic to work with and passionate about helping my family have a trip of a lifetime to Italy and France! We choose the complete turnkey trip planning complete with daily itineraries. It was wonderful to not constantly be thinking of the best way to get anywhere since most our travel from activity to activity had options right on the itinerary and clear instructions of where to walk to and meet. We will definitely use her services again!
---
How We Get To Your Unique European Travel Itinerary
The first step toward your dream European vacation is to contact me via phone or email so I can hear all about the vacation you have in mind. I'll ask you about your previous travel experience (helping first-time travelers to Europe is a passion of mine!) and answer any questions you may have.
Once my services are engaged and the itinerary design fee is paid, I will ask you to complete my exclusive Traveler Questionnaire. I've carefully developed this questionnaire to include specific questions that will help me craft a truly unique itinerary just for you.
I get to work crafting your First Draft Itinerary. This first draft will include multiple sight and activity suggestions and descriptions, travel tips, and options for flexibility.
Based on your feedback, I will continue to revise the itinerary until it's perfect for you (your "Happiness Guarantee!").
Once we establish your travel dates, I will send my recommendations and quotes for your flights and accommodations. Oftentimes, I can present a cost-saving option by bundling your flight and hotel. Upon your review and approval, I will process the booking on your behalf.

Note: If your dates and destination(s) are set from the start, Steps 2 & 3 may reverse order.
At this point, your itinerary flow and accommodations are mostly set and it's time to book your activities, guides/tours, transportation/transfers, and make restaurant reservations. Prices are transparent and itemized.
Once everything is booked and the itinerary gets your final blessing, I will send the written and mobile app versions of your custom itinerary, copies of all reservations, and any other instructions or materials.
Your itinerary isn't done until you say it is. Even once it's "final," it can always be updated.
The best part! Once you land in Europe, you'll immediately be able to put your itinerary to work and enjoy all the benefits of a well-optimized stress-free European vacation!
If any issues arise while you're traveling, you can reach out via email, text, or call and I'll take care of it for you. Itinerary revisions requested while in Europe may incur an additional daily planning fee.
Custom Itinerary Design Prices
Your custom independent itinerary, optimized with point-to-point details and travel advice – plus unlimited itinerary revisions, for only:
Prefer a slower travel pace?
Half-Day Custom Itineraries are available for travelers who want all the benefits of the full itinerary service but prefer to have only one sight or activity planned per day. Starting at $200 / trip day.
Your frustration-free European vacation is just a click away!
Contact me today for your free 20-minute trip consultation call.
Sample Door-To-Door Itinerary
For an example of what a day on your custom itinerary could look like, check out the sample itinerary below:
Did you know a well optimized itinerary will help you see up to 30% more than you might have without one?
Forget spending your precious vacation time standing around wondering where to go next… or, waiting in a long ticket line because tickets weren't ordered online.
An itinerary will help you use your time more efficiently – including your down-time! It's a magical thing when you can "plan" your breaks… using what might have been a wasted 30 minutes standing in a line instead to sip on a cappuccino while enjoying a scenic view.
The Montage Travel Difference
Truly custom itineraries, not "custom itineraries"
While many travel agencies claim to provide "custom itineraries," what this typically means is, they are going to create a package of tours scheduled for each day of your trip. Prices are often bloated to cover commissions that are built in. Some agencies provide practical advice, but in most cases what you do between activities and how you get around the city is left for you to figure out.
I do things differently. I know that an optimized itinerary and practical travel advice go hand-in-hand and are essential factors that go into how much you will enjoy your vacation.
I want you to see more by visiting sites during less crowded times, I want you to know which museums are best explored independently and which are enriched by visiting with a guide, and I certainly don't want you to get lured into a tourist trap restaurant that will cost more and be less authentic than a restaurant down the street that caters mostly to locals.
As you can see from the Sample Itinerary above, what I craft are real itineraries, not tours stacked on top of tours.
Recommendations for your benefit, not mine.
I am a fee-based advisor. I am not bound by the commission model that 95% of agencies operate.
This means, when you see tour and activity suggestions on your itinerary, you can be confident that I have made these suggestions for YOUR benefit, not mine.
I will only recommend activities that have been properly vetted and that I believe you will love. If the operator happens to pay a commission, I will accept ONLY if it doesn't cost you more.
Here at Montage Travel, I'm doing things differently. And it all comes down to:
How can I help you have the best experience possible during your European vacation?
Have Some Questions?