Many people travel as a way to explore their interests and make new discoveries. Travelers with special interests or hobbies will often make a point to visit sights and take tours that complement them. Special interest travel cruises are common and sail throughout Europe. Some examples include Wine Cruises, Christmas Market Cruises, Beer Cruises, History Cruises, Music Cruises, Religion Cruises, and more!
Let's take a closer look at some of the themed cruises that are available along Europe's rivers.
CHRISTMAS MARKET CRUISE

People from around the world travel to Europe for their amazing Christmas markets, and rightfully so. Each market, from large to small, is charming and unique and makes for a fun night out.
Many European river cruises offer Christmas market itineraries. These are very popular, so if you're considering one, I recommend booking as early as possible because they often sell out. To give you an idea of what you can expect to see and do during one of these cruises, I'll tell you about one of my favorites: Scenic Luxury Cruises and Tours' "Rhine Christmas Markets with Switzerland" with its 12-day itinerary.
You'll visit four countries on this itinerary. You'll start in The Netherlands, make four stops in Germany, one stop in France, and then several stops in Switzerland. As the scenery changes, so do the food and the customs, keeping this 12-day adventure fresh and interesting each day.
You will delight in the discoveries you make along the way. You'll be introduced to smaller towns with charming smaller-scale markets and visit some of the bigger "Bucket List" Christmas markets, such as ones in Cologne, Germany and Strasbourg, France.
Scenic offers a guided tour at each port of call, ensuring that you see the sights that make each town unique. You'll see edam cheese being made in Edam, you'll ride a panoramic scenic train through the Swiss Alps, and you'll have an opportunity to visit Charlie Chaplin's Lake Geneva-side mansion-turned-museum, Chaplin's World.
WINE CRUISE

If you enjoy good wine, then you would probably agree that one of the most enjoyable parts of any trip to Europe is the opportunity to try the local wines, many of which are not imported to the United States.
Fantastic vineyards and wineries can be found all along Europe's rivers, and cruise lines have developed special wine cruise itineraries that include winery visits, special lectures and events, and of course, wine tastings.
One popular wine cruise is the 7-night AMA Waterways' "Enticing Douro." Portugal's Douro River Valley is the oldest demarcated wine region in the world, situated in a beautiful and unspoiled part of continental Europe. The grape varieties here are native to Portugal and not typically found anywhere else. You'll go for the famous port and fall in love with many more, such as Espumante do Douro (a sparkling wine).
Your cruise will begin in Porto with a tour of the historic quarter (which includes a port wine tasting) and an optional hike to the winery. The following days include visits to the Portuguese towns of Lamego (a pilgrimage site in Portugal), Quinta do Seixo (where you'll learn about the Douro region's traditional winemaking methods), and visits to towns just outside of Pinhão, where you'll be treated to an exclusive lunch at a family-run restaurant and winery and visit the beautiful Mateus Palace.
Next, you'll cruise into Spain, and a motorcoach will bring you to the fortified hilltop village of Castelo Rodrigo (Enjoy the amazing views!) and the beautiful and historic Salamanca for an escorted tour and flamenco show.
A tour like this is exactly what makes "special interest travel" and themed tours so special!
TULIPS OF THE NETHERLANDS CRUISE

If you plan to travel during the spring, April is peak tulip season throughout the Netherlands. From late March through early May, you will find many cruise lines offering itineraries that include stops to view the spectacular tulip fields. One such cruise is Avalon Waterway's "Tulip Time." Beginning and ending in Amsterdam, it's an 8-day cruise through the Netherlands and northern Belgium.
The tulip-viewing highlight of this cruise is the stop at Keukenhof, which comprises 70 acres of manicured floral designs. Tulips are the star attraction here, with 800 varieties on display. Even so, with 7 million bulbs in bloom you will find other flowers, as well, such as hyacinths, daffodils, and orchids.
Taking the kids? There's a petting zoo, windmills open for exploration, and a playground. I visited with my family and absolutely loved the day we spent here!
This cruise also stops to explore cities such as Rotterdam, Antwerp, and Ghent. There are optional, alternate excursions to Gouda (instead of to Keukenhof, for the non-tulip lover), Brussels (instead of Antwerp), and the quaint City of Bruges (instead of Ghent—and, in my opinion, that's a tough choice to make!). Lesser-known (but equally historic and fascinating) ports of call include the fortified town of Willemstad, with its storybook charm and fascinating history, and the Delta Works project (the engineering marvel that spares the Netherlands from constant flooding).
ART WORKSHOP ON THE RIVER

If you've always wanted to learn how to draw, this is your chance while cruising beautiful European waterways. Uniworld has partnered with Larry Aarons, a renowned portrait and landscape artist, to offer floating art workshops. The classes are included with your cruise and offered on at least two sailings each year. In 2019, Mr. Aarons will be on the "Holland & Belgium at Tulip Time" sailing on March 24th, and "Brilliant Bordeaux" sailing on June 16th.
According to Uniworld's website, his classes feature:
A lesson on how to create a charcoal portrait using Larry's brush method;
A small and personalized class setting with a breathtaking view of Europe's stunning landscape; and
A hand-drawn memento for you to keep and cherish for years to come.
There is a 10-person limit per class, so I recommend registering as soon as you board the ship. Everything that you will need to create your sketches is included with the class.
READY TO FIND YOUR OWN SPECIAL INTEREST CRUISE?
With so many different themed cruises to choose from, it can sometimes get a bit confusing and time-consuming to find the perfect one for you and your family.
If you would like some expert help, check out my Tour & Cruise Matchmaking service. Upon getting to know more about you, it will be my pleasure to match you with the cruise that best fits your style, preferences, and special interests!
SAVE TIME. AVOID FRUSTRATIONS. EXPERIENCE A BETTER VACATION.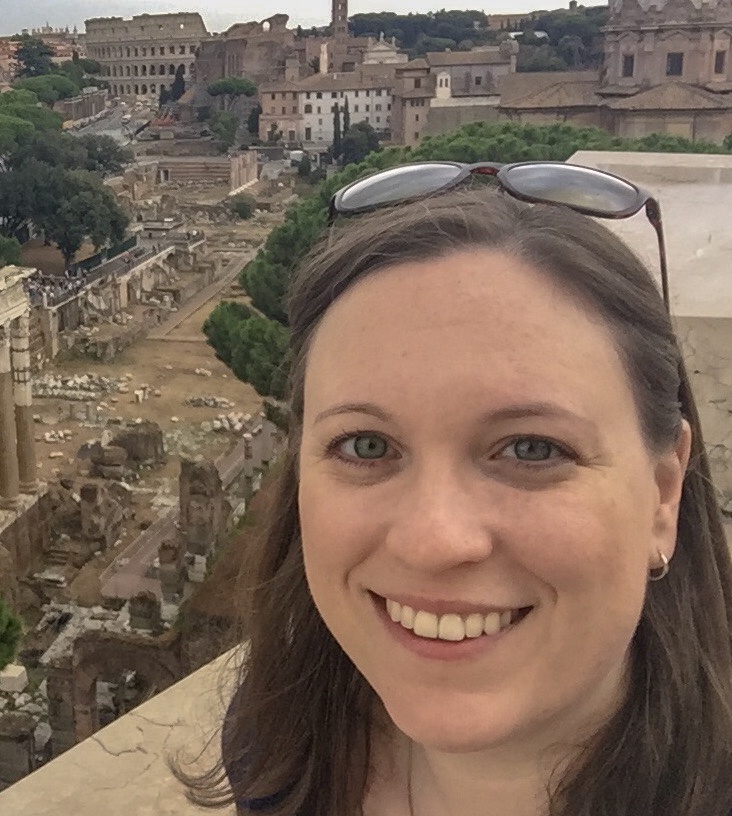 Hi, I'm Cassie! Here at Montage Travel, I'm crafting custom itineraries for independent travelers who want to make the most out of their valuable vacation time in Europe (who wouldn't?).
My mission is to ensure travelers like you save time on planning and experience frustration-free trips with a well-optimized itinerary. Each and every itinerary I create is made from scratch and tailored specifically to your interests, travel pace, and preferences. An optimized itinerary and practical travel advice go hand-in-hand and are essential factors that will determine how much you will enjoy your vacation. Equipped with your own itinerary, you'll see more by visiting sites during less crowded times, you'll know which museums are best explored independently and which are enriched by visiting with a guide, and you'll avoid getting lured into a tourist trap restaurant that will cost you more and be less authentic than the restaurant I'll point you towards just down the street that caters mostly to locals.
Travel with confidence. Itineraries include unlimited revisions and unlimited 1-on-1 travel advice.