Hi! If you're new to the blog, my name is Cassie and I'm a European Destination Specialist and Itinerary Planner. Today, I'm sharing with you the best warm winter destinations in Europe.
Whether you're traveling to escape the cold temperatures in your home town, are celebrating a special occasion, or simply have the urge to travel during a quieter time of year, there are several great places to visit in Europe during the winter months.
Most of the destinations listed have average daily high temperatures of at least 60°F from December through February. The slightly cooler destinations on this list are included because they are exceptionally attractive and noteworthy for avoiding crowds, attending festivals, and/or providing opportunities for exclusive experiences.
So, here with go – listed in order from warmest to coolest average daily high temperatures.
The Canary Islands, Spain

With temperatures rarely dipping below 70ºF all year round and some of the longest and driest winter days in Europe, the Spanish archipelago is easily one of the most reliable options for a warm winter vacation in Europe.
There's an island for every vacationer. Consider Tenerife for the world's best water park and perfect stargazing conditions; Gran Canaria for its pristine sands and turquoise waters; or Lanzarote for its spectacular volcanic scenery and vineyard tours (volcanic wine tasting, anyone?).
The Canaries are also blessed with incredibly varied landscapes, meaning you can enjoy a wide range of activities: from challenging hikes and extreme water sports, to relaxing golf or scuba diving sessions.
No matter which island you choose, you're guaranteed pleasant weather, exciting activities, breathtaking views, and warm enough evenings for stargazing or a lovely sunset stroll along the coast. What's not to love?
Average high temperatures in The Canary Islands in Winter
December: 70°F
January: 69°F
February: 69°F
Azores, Portugal

Considered by many as one of Europe's best kept treasures, and located just a 4h direct flight from Boston, Massachusetts or NYC, this Portuguese volcanic archipelago is one of the finest destinations for a truly unforgettable warm winter holiday experience.
The Azores enjoys a subtropical climate throughout the year, allowing visitors to fully savor all the breathtaking natural beauty and thrilling outdoor activities it has to offer, including hiking, biking, horseback riding, snorkeling, sailing – and even whale and dolphin watching!
Due to its volcanic nature, the archipelago is also blessed with soothing sights, lush green hills, magical waterfalls, endless vineyards, gorgeous turquoise crater lakes, and relaxing hot springs that will melt your stress away and leave you revitalized for your next adventures.
But it's not all about heart-pumping adventures and heavenly scenery. Foodies are also in for a treat, as the Azores' culinary scene exploits the varied range of local ingredients – from fresh fish, seafood, meat and flavorful drinks to a local specialty: Cozido das Furnas, a stew slowly cooked in a large pot by the volcanic steam from the hot springs!
Average high temperatures in the Azores in Winter
December: 64°F
January: 62°F
February: 62°F
Andalucia, Spain

Unanimously regarded as the most beautiful province in Spain, Andalucia is surrounded by the snow white peaks of the Sierra Nevada, golden sandy beaches, and natural parks with lush green mountains, giving visitors the opportunity to choose the landscaping they want to enjoy.
Visiting Andalucia also means being perfectly connected to the rest of Spain (and Europe), allowing you to easily explore the nearby area and make the most out of your time abroad (ask me about crafting an amazing custom 7-Day Spain Itinerary for you).
Discover the Doñana National Park, where 300 bird species come to nest and breed; visit the former Roman and Moorish capital of Córdoba, with it's maze-like old town streets and the magnificent Mezquita mosque; or make your way to today's capital of Andalucia, Seville, widely known for its exciting nightlife, flamenco dances, gorgeous Gothic-style cathedral (the third-largest in Europe), and the delightful and recently restored Plaza de Espana where Star Wars was partly filmed.
And, of course, one cannot simply leave the Spanish province without having a taste at the local cuisine, with its authentic tapas dishes and great red wine. Salud!
Average high temperatures in Andalucia in Winter
December: Seville 62°F, Córdoba 59°F
January: Seville 61°F, Córdoba 58°F
February: Seville 64°F, Córdoba 62°F
Malta

On the surface, Malta might not seem like a typical winter destination. Located at the heart of the Mediterranean Sea, just south of Sicily, this exotic island is charmed with awe-inspiring natural scenery, pristine waters, and splendid weather all year round.
However, Malta's remarkable architectural heritage, abundant history, and captivating local culture easily make it one of my most recommended places to visit for a warm winter holiday, packed with authentic experiences – minus the crowds!
Consider exploring the sandstone capital, Valletta, and its plethora of museums, cathedrals, palaces, and gardens. The highlights include admiring the magnificent Baroque architecture of St. John's Co-Cathedral, wandering through the picturesque ruins of Royal Opera House, and taking a relaxing stroll around the majestic Upper Barrakka Gardens.
Other exciting and authentic activities encompass discovering the walled city of Mdina and the historic Cittadella in Gozo, marveling at prehistoric architectural masterpieces – the Megalithic Temples – built around 3600 BC and 700 BC, or exploring St Paul's Catacombs in Rabat.
Average high temperatures in Malta in Winter
December: 62°F
January: 60°F
February: 60°F
Lisbon, Portugal

While the months leading up to Christmas fill the Portuguese capital's streets with magical twinkling lights and smoky haze from the delicious roasted chestnut stalls, it's in January and February that Lisbon sees the fewest crowds, inviting visitors to explore the cosmopolitan city at their own pace and under clear blue skies.
Stroll from the verdant Jardim Botanico Tropical through the Byzantine and Gothic Belem Tower and gaze at the endless Atlantic Ocean; order a pastel de nata (Portugal's famous custard pie) and saunter off to discover the Jeronimos Monastery, inside which lies the tomb of Vasco da Gama; survey the terracotta-colored roofs at the top of Santa Justa Elevator; or admire world-class museums, vibrant street art, and moving Fado performances in Bairro Alto and Alfama.
Lisbon also makes a great base for exploring the neighboring area, including the castle-dotted town of Sintra, or Cascais – which over recent years developed from a fishing village to a classy seaside resort with Michelin star restaurants, fascinating art, and white sandy beaches.
Average high temperatures in Lisbon in Winter
December: 59°F
January: 59°F
February: 61°F
Italy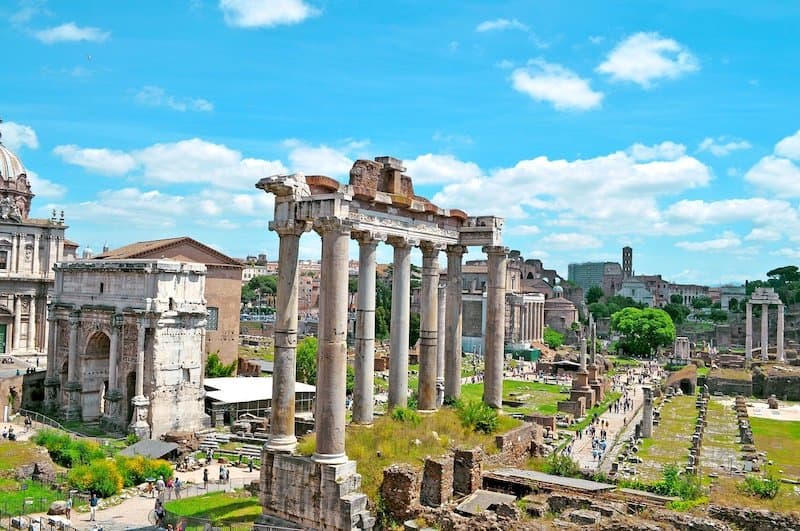 While not necessarily "warm," especially in the North, one of my absolute favorite recommendations to make for a winter vacation in Europe is Italy – even if (or especially if) you've visited before!
For most people, visiting Italy during the prime summer vacation months means outsmarting crowds and contending with the summer heat. Those who can make the trip in winter, can expect to be rewarded with comfortable temperatures, fewer crowds, and lower accommodation rates.
Thanks to Italy's country-wide abundance of iconic landmarks, masterpiece-filled galleries and museums, century old cathedrals, lively Christmas markets, and mouth-watering Italian food – you're in for an absolute treat no matter which city or region you decide to visit.
Embrace an authentic Sicilian experience at the popular resort towns of Taormina or Cefalù, with its laidback lifestyle, seasonal culinary delights and sparkling seascapes; take advantage of the shorter (if any) wait times in Rome and claim the mighty Colosseum and the nearby ancient ruins of Pompeii for yourself; or discover Da Vinci's Last Supper in Santa Maria delle Grazie church and go on a shopping spree in the capital of fashion and design (Milan).
While Northern Italy in winter is quite a bit cooler than the South (average temps in the 40's), it will be worth your while to make your way to the floating city of Venice as it bursts to life for Carnevale. The annual open-air celebration fills the city with beautifully lit gondolas floating along the Grand Canal, music, and parades of thousands of people dressed in extravagant Venetian costumes!
Average high temperatures in Italy in Winter
December: Cefalù (Sicily) 59°F, Rome 56°F, Venice 46°F, Milan 45°F
January: Cefalù (Sicily) 59°F, Rome 54°F, Venice 45°F, Milan 45°F
February: Cefalù (Sicily) 59°F, Rome 56°F, Venice 48°F, Milan 49°F
Athens, Greece

Thanks to a milder climate, undisputable mythology, great cuisine, and ancient heritage, the Greek capital makes for an amazing warm winter destination to visit, offering something for everyone to enjoy.
Climb to the top of Mt Lycabettus and gaze at the astonishing panoramic views over the ancient city; admire Anafiotika's antique and wonderfully preserved architecture; roam peacefully around the tranquil National Garden; discover over 3,000 ancient Greek and Cypriot artifacts at the Museum of Cycladic Art; shop antiques and Greek handcrafts at the Monastiraki flea market; or visit one of the many historic Temples and Museums the city has to offer.
And don't leave Athens without visiting the World Heritage Site of Acropolis and its monuments – universal symbols of the classical civilization and the greatest architectural and artistic complex left by Greek Antiquity to the world.
Average high temperatures in Athens in Winter
December: 59°F
January: 56°F
February: 57°F
Dubrovnik, Croatia

Located in the ever enchanting Dalmatian Coast, Dubrovnik is fittingly known as the "Pearl of the Adriatic", famed for its picturesque limestone streets, incredible architecture, savory seafood dishes, and panoramic restaurants with nothing but the sea beyond.
But, why do I recommend visiting in Winter?
Well, Dubrovnik's historic core is small, so it doesn't take much for the narrow lanes to get congested during the busy summer travel season. In Winter, with the swarms of tourists gone, you'll find yourself with plenty of room to breathe and freedom to explore.
One of my all-time favorite trip experiences – anywhere – was getting up high and above the city and onto the City Walls (check out my video!). It's hard to put into words the serenity and exclusivity that I felt while having the narrow wall ramparts all to myself. Literally.
Image peering down on the streets below, catching a glimpse of Dubrovnik's authentic daily life, and soaking in the overwhelming views over the blue Adriatic sea. It could be yours during a winter visit.
For a different, but equally special experience, consider visiting Dubrovnik during the holiday season. You'll be delighted by the Old Town's welcoming and festive atmosphere as locals take to the streets to perform carols, filling the city with music, color, and joy.
Average high temperatures in Dubrovnik in Winter
December: 57°F
January: 54°F
February: 56°F
Are you ready to escape the cold and find comfort in one of these warm winter destinations?
Visiting Europe during the winter definitely has a lot of advantages for both independent travelers and for those who prefer to travel with an escorted tour. Not only are the accommodation rates lower, but the absence of swarms of tourists make some destinations so much more relaxing and easier to explore, allowing you to make the most out of your time abroad while enjoying a more authentic local experience.
When it's time to start planning your winter vacation, I'm here to help you find the best option(s) for you. Whether that's crafting a unique itinerary around your personal interests and style, providing advice so that you can build your own itinerary, or matching you to your perfect escorted tour.
Contact me for your complimentary trip planning consultation – I'd love to chat with you about all of the possibilities! Consultations are offered both by phone or email.
SAVE TIME. AVOID FRUSTRATIONS. EXPERIENCE A BETTER VACATION.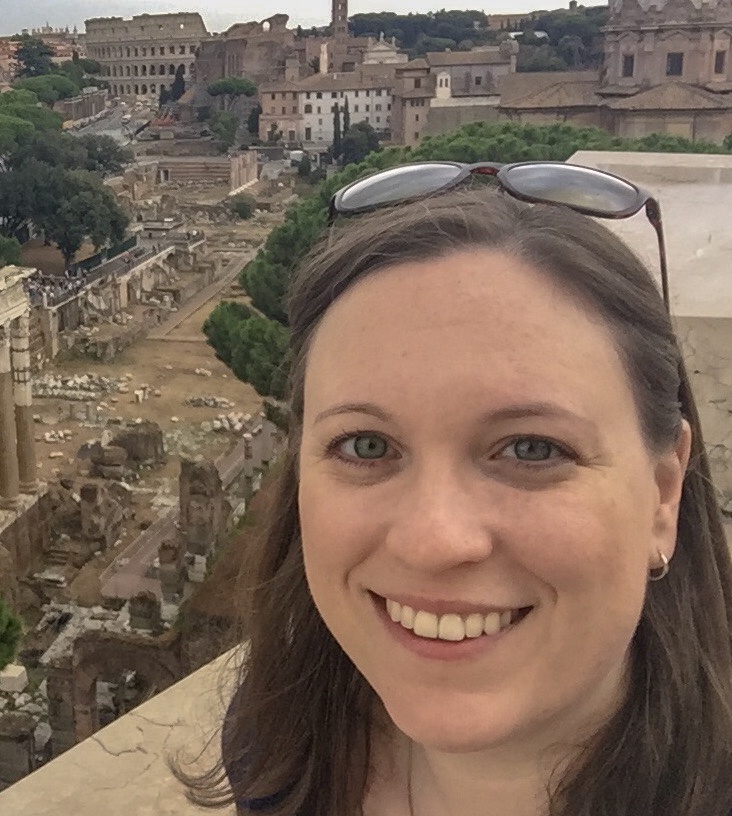 Hi, I'm Cassie! Here at Montage Travel, I'm crafting custom itineraries for independent travelers who want to make the most out of their valuable vacation time in Europe (who wouldn't?).
My mission is to ensure travelers like you save time on planning and experience frustration-free trips with a well-optimized itinerary. Each and every itinerary I create is made from scratch and tailored specifically to your interests, travel pace, and preferences. An optimized itinerary and practical travel advice go hand-in-hand and are essential factors that will determine how much you will enjoy your vacation. Equipped with your own itinerary, you'll see more by visiting sites during less crowded times, you'll know which museums are best explored independently and which are enriched by visiting with a guide, and you'll avoid getting lured into a tourist trap restaurant that will cost you more and be less authentic than the restaurant I'll point you towards just down the street that caters mostly to locals.
Travel with confidence. Itineraries include unlimited revisions and unlimited 1-on-1 travel advice.