Group tours in Europe offer several benefits that can greatly enrich your overall travel experience. So, as you weigh the options of either joining a tour or planning your own itinerary, you may want to weigh the pros and cons that come with each of them.
Perhaps the biggest difference between planning your own trip and traveling independently is that the logistics of travel alone are complicated. But with a group tour, it's essentially effortless!
Let's take a more in-depth look at the benefits of traveling as part of a group tour.
PLANNED TOUR ITINERARY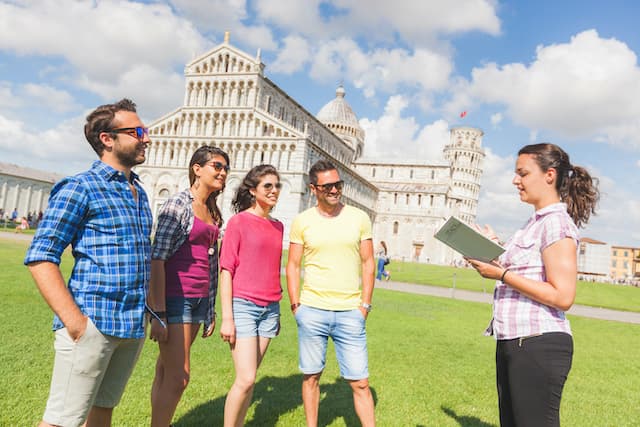 With group tours in Europe, there is no need to spend time before the trip planning where you're going to go, how you're going to get there, or in what order you'll see the sights.
Simply choose the tour operator that offers the experience that you are looking for and the itinerary that takes you where you want to go. Be sure to check out how I can help with my Tour Matchmaking service.
Tour companies offer a variety of tried-and-true itineraries that will take you to see the top sights and take care of all of the logistics—making sure you won't miss a thing!
If you're interested in getting off the beaten tourist path and want to see the lesser-known sights, there are tour itineraries covering these areas too. Or choose a tour that offers a mix of headlining sights and hidden gems!
THE DETAILS ARE COVERED

Beyond a pre-planned itinerary, group tours also cover all of the details and logistical aspects of your trip. Expect tour guides, excursions, transportation, accommodations, and attraction tickets to be included. Some of your meals will even be arranged.
Having these details covered makes a group tour a great way to have a truly relaxing vacation.
TOUR GUIDE INCLUDED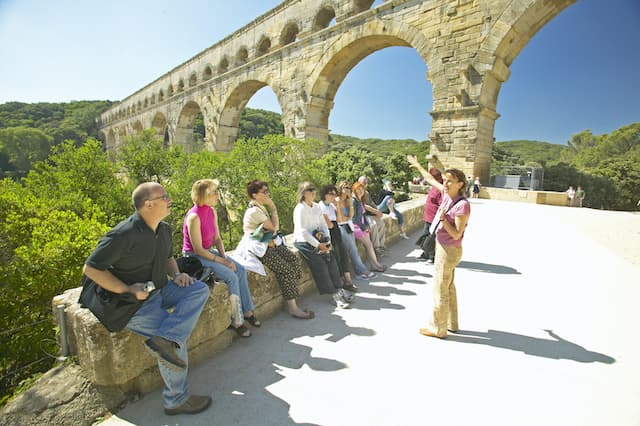 The Tour Director will be your group leader. They will be your main point of contact and in charge of all of the daily logistics for the group. Sometimes the Tour Director is also the tour guide for each sight along the way. Other times, you will have separate guides.
Either way, the local guides are experts, and they will offer local insights, answer questions, and share stories that will enrich your vacation experience.
OPTIMIZED SIGHTSEEING TIME

An optimized itinerary is key to maximizing your sightseeing and will help you to avoid wasting time on indecision.
Escorted group tours in Europe are designed to flow and make the most efficient use of your precious vacation time.
It's worth noting that tour durations vary. You can choose a tour as short as 3 days or as long as a month! Either way, you can count on seeing all of the top sights in the amount of time that you have.
VIP EXPERIENCE

You will benefit from the special relationships your tour operator will have with the various sights and attractions. This includes being able to skip lines, being granted exclusive access to otherwise off-limits areas, and other VIP experiences that may not have been available outside of traveling with a group.
BUDGETING

Budgeting for trip expenses is easier with group tours in Europe because most of the big-ticket items, such as lodging, sightseeing, and some meals are already covered as a part of the tour's cost.
The only things you will need to bring money for are souvenirs and any meals not included in your package.
MAKE NEW FRIENDS

The fellow members of your group tour will often enrich the entire experience. People tend to bond over shared interests and shared experiences during their tour, which sometimes leads to life-long friendships. Because they come from different backgrounds, fellow travelers can also offer perspectives and additional insights into the places you visit.
Cassie's Tip: There's no need for a selfie-stick when you're on a tour. Tour members are usually happy to take photos of you in iconic places and will be delighted if you return the favor!
SAFETY

There's something to be said about the comfort of traveling in numbers. Generally speaking, European cities and countries are very safe (often more so than our American cities and states). However, it's comforting to know that when you're in an unfamiliar place, your fellow tour mates are nearby and the Tour Director is your contact if anything should go wrong.
GROUP TOURS IN EUROPE ARE FOR EVERYONE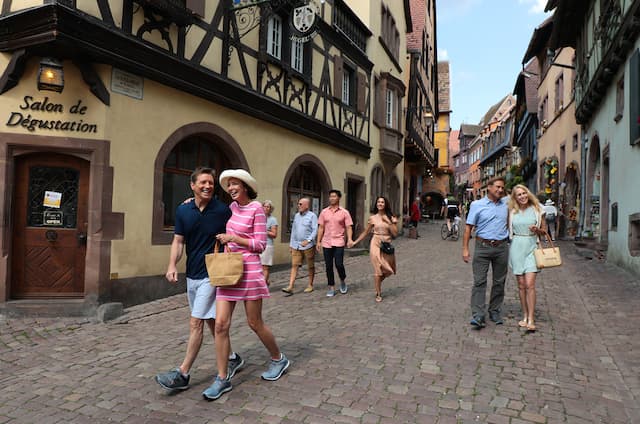 As you can see from the benefits above, escorted group tours are a great way to see Europe. Tour operators offer fantastic tour itineraries with options that accommodate every type of traveler.
Types of travelers that might find escorted tours particularly preferable to touring independently are:
First-Time Travelers
If you're new to traveling, or it's your first time in a particular country, group tours may be a preferable way to tip your toe in the water. Tours offer a sense of security and familiarity and help with the transition into a different culture and language. They are also an opportunity to learn more about traveling before planning and executing your own trip in the future.
Relaxed Travelers
Traveling to Europe doesn't always feel like a vacation, considering all of the activity and sometimes stress that comes from going from one place to the next. However, on a group tour, there's more of a go-with-the-flow vibe, which takes the stress out of the equation.
Solo Travelers
If you're traveling solo and want to go alone, but not be alone, a group tour is the best option. You'll share the experience with like-minded travelers and benefit from the added safety of traveling with others.
Some tour companies cater specifically to solo travelers, and some others have no (or low) single supplements (contact me if you're interested in quotes from these operators).
Adventure Travelers
If you're looking for an adventure trip, such as hiking, biking, or skiing, there are many benefits to taking a group adventure tour. Tour guides will lead the way, bring the supplies, and coordinate the logistics.
Depending on your destination, the sights you want to see may also only be accessible by tour.
Groups of Friends
Tours aren't just for couples and families, they're also great for traveling with friends! There's no need to designate a trip planner in the group; simply choose an itinerary offered by a tour company.
This also eliminates the worry about collecting money. Simply submit payments individually and you'll be on your way to making memories together in no time.
WHICH TOUR IS RIGHT FOR YOU?

Are the many benefits of group tours in Europe compelling you to join one for your next trip to Europe?
If so, there are many tour operators to choose from and even more itineraries.
With tour operators increasingly targeting distinct lifestyle niches, it can be difficult to choose the one best for you. If you would like some expert help, check out my Tour & Cruise Matchmaking service. Upon getting to know you better, it will be my pleasure to match you with the tour that best fits your style and preferences!
SAVE TIME. AVOID FRUSTRATIONS. EXPERIENCE A BETTER VACATION.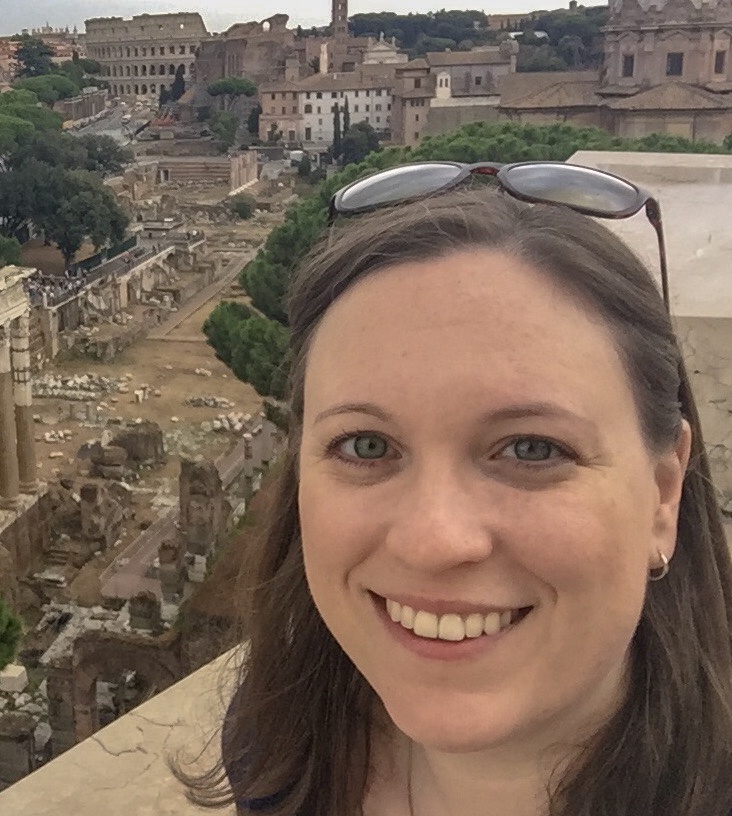 Hi, I'm Cassie! Here at Montage Travel, I'm crafting custom itineraries for independent travelers who want to make the most out of their valuable vacation time in Europe (who wouldn't?).
My mission is to ensure travelers like you save time on planning and experience frustration-free trips with a well-optimized itinerary. Each and every itinerary I create is made from scratch and tailored specifically to your interests, travel pace, and preferences. An optimized itinerary and practical travel advice go hand-in-hand and are essential factors that will determine how much you will enjoy your vacation. Equipped with your own itinerary, you'll see more by visiting sites during less crowded times, you'll know which museums are best explored independently and which are enriched by visiting with a guide, and you'll avoid getting lured into a tourist trap restaurant that will cost you more and be less authentic than the restaurant I'll point you towards just down the street that caters mostly to locals.
Travel with confidence. Itineraries include unlimited revisions and unlimited 1-on-1 travel advice.