With its winding streets, revved-up joyful chaos, and seemingly limitless offerings of amazing food, drink, art, and ancient historical sights, Rome is a city that will take your breath away — whether you're visiting for the first time or the tenth.
Sometimes new travelers can feel slightly intimidated by the sheer volume of people — an average of 9 million international tourists a year! — who flock to the top sights Rome has to offer.
The good news is that there are plenty of ways to see the magnificent sights of Rome that will feel intimate, fascinating, and utterly enchanting. That's part of the magic of this glorious city.
I've been to Italy many times, and I've found there's nothing like visiting the most beloved sights in Rome (in addition to seeking out some of the hidden gems). It's a city that still takes my breath away!
As an Italy travel expert with a specialty in planning custom itineraries to Rome, there are some sights in Rome that most everybody has on their bucket list. I love sending curious travelers to these iconic locations in a way that is both stress-free and enjoyable.
Here are the must-see places, along with my tips on how to make the most of your time in the Eternal City.
THE ROMAN COLOSSEUM

With a footprint that covers nearly six acres (about 4.5 football fields) and at 160 feet high, the Colosseum is staggering in its size. In its heyday, the stadium could accommodate 50,000 people!
When you pass through the turnstiles, you'll see signage that suggests a visitor's route, beginning on the upper level and working your way down. This is a great way to get your bearings, to take in the impressive view of surrounding hills and landmarks, and to get a sense of the scale and grandeur of the space.
When you look down into the arena, you'll see the underground passages where animals and prisoners were kept — which can only be visited on a private special-access tour (see Cassie's tip below). In ancient Rome, the fans who came to watch men and animals battle to the death would have seen a huge wooden platform covered in sand (and probably plenty of blood).
As you move down and along the vast corridors, imagine being in the stands, in the various seating areas reserved for emperors, plebeians, or Vestal Virgins. See if you can spot the rectangular shafts that were once pulley elevators that hauled people, animals, and set props up to the main stage.
In peak season, the Colosseum and nearby Forum draw thousands of visitors a day and are the most popular sights in Rome. Lines tend to be longest in the morning, and then thin out in the afternoon on most days. Purchasing your ticket in advance is a smart idea. To really avoid crowds, make sure to skip the first Sunday of each month: that's when admission is free, and the place is completely packed.
Because eating options are limited in the area directly by the Colosseum, people often opt to walk a few blocks for better restaurants. I can recommend beautiful picnic spots and tasty eats for your day exploring the Colosseum and Forum!
Cassie's Tip: For the most enriching experience (and to skip the long lines), consider hiring a private guide or joining a small-group tour. A talented guide – of which I can recommend a few! – will bring the towering now-empty walls and halls to life.
THE ROMAN FORUM

In its time, the Roman Forum was the epicenter of the Empire. Here people could attend religious rites and processions, elections, political demonstrations, criminal trials, speeches, and parades, and buy and sell all kinds of goods.
Now, in the few acres that the Forum covers, you can revisit over 2,500 years of history. It's easy to see why so many people want to experience the Forum and why it is considered one of the must-see sights in Rome.
Even the ruins still carry an undeniable spark of life and energy. You can picture the bustling main street of the Via Sacra, and the rites that took place in ornate and stately temples. You can imagine the fiery political speeches given in the Curia and the Rostrum as the Roman Republic made its brilliant and sometimes-sputtering attempts at representative democracy. As you pass through the massive arches of Titus and Septimus Severus, think of the lavish military parades that rolled through during Rome's glory days.
The ruins of the Roman Forum are not marked which makes the site difficult to interpret without a guide of some kind. You have a few options, such as a guide book or audio guide, but if you really want the best experience, hire a private guide or join a small-group tour (such as this one) that includes both the Colosseum and the Forum. Trust me, I've toured it myself in all 4 ways – the guided options make all the difference.
VATICAN MUSEUMS WITH SISTINE CHAPEL VISIT

The Vatican Museums are really a huge conglomerate of many sub-museums that offer an extraordinary window into more than 5,000 years of human history — from ancient Egyptian artifacts to collections of contemporary religious art.
Cassie's curiosity: If you walked through every room in the Vatican Museums, you'd cover more than 4.5 miles. You're more likely to target your visit to see only the most notable rooms, but even still, there's a lot of ground to cover. This is why touring Rome earns you all the gelato you want! 
Through more than 1,400 rooms and long hallways, you can take in one of the greatest collections of paintings, sculptures, tapestries, and ancient artifacts in the world, culminating with the majesty of the Sistine Chapel. As you stand under the immense chapel ceiling, you'll hear exclamations and awed whispers and even see people weeping with appreciation. For travelers, pilgrims, and art enthusiasts alike, this is one of the most beloved sights in Rome.
Cassie's Tip: If you're hungering to enjoy the Sistine Chapel in relative peace, without the pressing crowds, I highly recommend the Pristine Sistine Early Entrance Small Group Vatican Tour. This four-hour tour not only gives you time to enjoy the Sistine Chapel (by allowing entrance before it's open to the general public), it also offers three hours of guided exploration of the Vatican Museums, plus an hour to tour the jaw-dropping St. Peter's Basilica (with a secret line-skipping shortcut!).
Speaking of which …
ST. PETER'S BASILICA

The emblem of Western Christendom and the largest church in the world, St. Peter's Basilica is an experience as much as it is a building. Everything about it — its history, its art, its impossibly towering dome — defies the mind's sense of scope and scale.
St. Peter is recognized as the first pope of the Church. His martyred remains are buried under what is the main altar today. The original St. Peter's site (completed in 326 A.D.) is dwarfed by the immensity of the "new" basilica, which took 120 years to complete and was finally finished in 1626.
You can easily spend an entire afternoon wandering the narthex, nave, and nooks of the Basilica, which hold some of the world's most famous art and sculptures. Michelangelo's Pietà, Raphael's mosaic copy of the Transfiguration, and the gigantic statue of St. Peter himself (with a big toe that has been worn down by the kisses of millions of devotees over the centuries) all can be found inside one of the most extraordinary sights Rome has to offer.
And if you're feeling especially adventurous, you can climb the 323 steps leading you to the 448-foot dome (see also: gelato), where you can get a bird's eye view of Vatican City below. Is it worth it? Yes….or no. If I'm planning your custom Rome itinerary, we'll discuss the pros and cons as it relates to the time of year of your visit and your personal travel stamina!
BEST WAY TO SEE ROME'S FAMOUS MONUMENTS

Rome is a city designed to be enjoyed leisurely (honking and zooming scooters notwithstanding!) and is at its most magical at a walking pace.
I highly recommend a stroll that strings together these iconic sights of Rome: Piazza Navona, the Pantheon (pictured), Trevi Fountain, and the Spanish Steps. If you really want to up the magic factor, time your walk to catch the honeyed light of the golden hour, right before sunset. Not only does everything take on the fairy-world enchantment that Rome does so well, you'll also get to partake in the centuries-old tradition of the passeggiata, the evening walk that is still a huge part of Italian culture.
Cassie's Tip: Don't forget the tasty food! Grab some of the city's best gelato at Giolitti's, near the Pantheon. And if you end your walk at the storied Spanish Steps, there are plenty of great restaurants to choose from. I can help you arrange your own unforgettable passeggiata and make dinner reservations!
BEST MUSEUMS

Though it's hard to pick from the many offerings in Rome, there are two other museums besides the ones at the Vatican that I especially recommend for all of you art and history lovers.
Nearby the Forum and in the center of Rome, the Capitoline Museums is a two-building complex on Capitoline Hill that contains many of the best-known sculptures, sarcophagi, busts, mosaics, artifacts, jewelry, and paintings in the world.
The courtyard (Piazza del Campidoglio) that rests between the buildings is a marvel in itself, designed by Michelangelo and completed after his death. Especially at night, the views of the lit-up Forum from the hill will make your heart go pitter-patter for sure.

Another of the don't-miss-it sights in Rome is the Borghese Gallery. Comparatively small, it is housed in the beautiful Borghese family villa (which is still palatial and exquisite).
The gallery contains the world's largest collection of Caravaggio paintings, and also the world's largest collection of works by the prolific and multi-talented artist Gian Lorenzo Bernini — the man who created dozens of famous Baroque sculptures, designed elements of St. Peter's Basilica (including the baldachin and the massive square itself), and is responsible for several of Rome's best-known fountains.
The Borghese holds one other quiet delight: because it is smaller, there are a limited number of people allowed in at one time, which creates a very pleasant, peaceful, and intimate experience. Ahhhhh…
READY TO SEE THESE SIGHTS IN ROME FOR YOURSELF?
The Eternal City is a feast for the senses. There's a reason why people from all over the world flock to this amazing place each year.
There are so many breathtaking sights in Rome just waiting to be discovered. Whether you're looking for a trip that includes all the must-see sights, or you want a balance between the timeless favorites and the lesser-known hidden gems, I can make it a reality with a perfectly planned and 100% customized Rome itinerary.
I'll take the hassle and stress out of the planning process, and you'll get to travel with an optimized itinerary that saves you time while in Rome and enriches your entire vacation experience. Take the first step toward your frustration-free vacation to Rome by checking out my Custom Itinerary service or contact me to schedule your complimentary trip consultation today!
SAVE TIME. AVOID FRUSTRATIONS. EXPERIENCE A BETTER VACATION.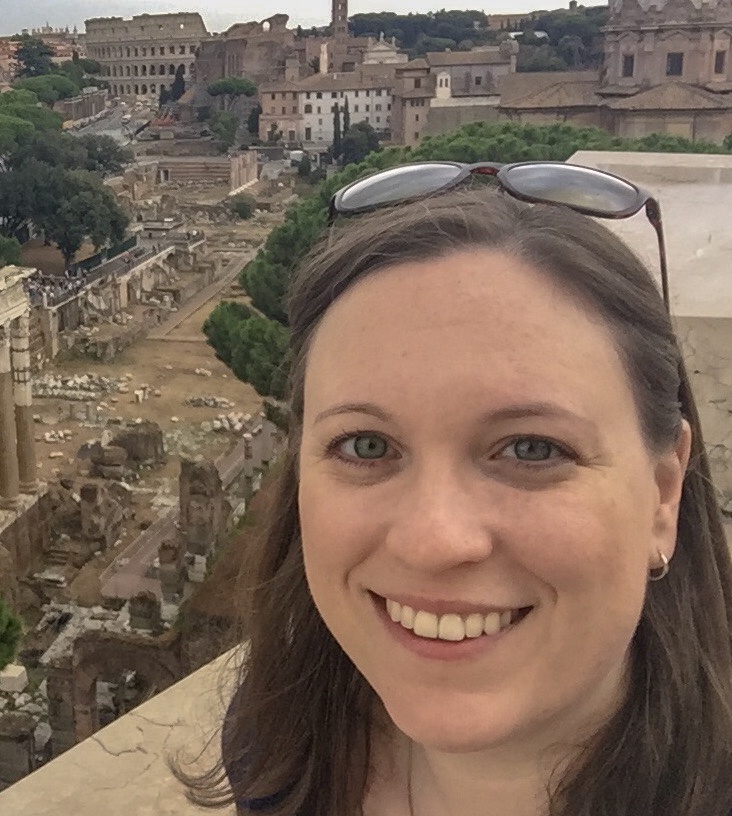 Hi, I'm Cassie! Here at Montage Travel, I'm crafting custom itineraries for independent travelers who want to make the most out of their valuable vacation time in Europe (who wouldn't?).
My mission is to ensure travelers like you save time on planning and experience frustration-free trips with a well-optimized itinerary. Each and every itinerary I create is made from scratch and tailored specifically to your interests, travel pace, and preferences. An optimized itinerary and practical travel advice go hand-in-hand and are essential factors that will determine how much you will enjoy your vacation. Equipped with your own itinerary, you'll see more by visiting sites during less crowded times, you'll know which museums are best explored independently and which are enriched by visiting with a guide, and you'll avoid getting lured into a tourist trap restaurant that will cost you more and be less authentic than the restaurant I'll point you towards just down the street that caters mostly to locals.
Travel with confidence. Itineraries include unlimited revisions and unlimited 1-on-1 travel advice.
MORE FROM THE MONTAGE TRAVEL BLOG