Whether you're an experienced traveler or a first-timer, there are some essential travel tips for Europe that you would benefit greatly from knowing before you leave home.
These tips have been cultivated over more than a decade of my traveling Europe. It is my intention that these tips better prepare you for your trip, help maximize your enjoyment, and minimize potential confusion or frustration.
Let's get into it!
MONEY TIPS

Europe tends to be more cash-based than the U.S., so it is a good idea to have local currency on-hand (and stored securely in a money belt).
Currency Exchange
For the best currency exchange rates, avoid the high fees and exchange rates at the Currency Exchange kiosks and instead dispense cash from a local ATM. A bank-connected ATM will have the lowest fees (if possible, avoid stand-alone ATMs as found in convenience stores).
Before you leave home, check to see if your bank has a European partner-bank. For example, Bank of America partners with BNP Paribas, Barclays, and Deutsche Bank – making cash withdrawals free.
If you want to land in Europe with the local currency in-hand, order some starter cash from your local bank at least a week in advance of your travel.
Credit Cards
When using a card to make purchases, use your credit (rather than debit) card. Credit cards offer the advantage of buyer and fraud protections and many also waive the foreign transaction fees – which will save you a lot of money.
For a list of credit cards that offer this, check out this article. Also of note: all US-issued Capital One cards have no foreign transaction fee.
When making a purchase, you are often given the option of paying in local currency or in USD. Always choose to pay in the local currency to avoid an unfavorable conversion rate.
Before leaving home, notify your bank(s) that you will be traveling (note: some banks have stopped requiring this). Be sure you know your PIN numbers – for both your debit and credit card. Many ticket kiosks will require a PIN number and sometimes will not accept American credit cards – this is one instance where you typically will need to pay with a debit card or cash.
Visa and MasterCard are accepted everywhere, but many vendors will not accept American Express. It is a good practice to bring more than one credit and debit card so that you have a back-up in case of loss or a vendor not accepting one card, but will accept the other.
Contactless credit cards are becoming the default in many places in Europe. If you have one, or can get one, it will make your transactions a little bit quicker and easier.
PASSPORTS AND VISAS

Before traveling, ensure that your passport will be valid for at least six (6) months after you return home and has at least two (2) empty pages. Any less than 6 months, you may not be permitted into the country you had planned to visit.
While traveling, it is important to keep your Passport safe and secure. The best option would be to lock it in your hotel room safe. The second best option would be to carry it with you in a money belt. It is good practice to keep a photo of your Passport on your phone and/or make a photocopy and to keep it in a separate location from your actual Passport. This way, you have a copy that can be brought to the US Embassy to facilitate a replacement.
Please be aware that when checking into your accommodations (including private apartments), each traveler will be asked to present their Passport.  Hotels and hosts are legally required in the EU to ask for your Passport and make a photocopy for their records.
Visas
Generally, US citizens do not need a Visa to visit Europe, with the exception of Russia. Turkey requires an e-Visa (unless you are stopping for less than 72 hours as part of a cruise). If you are staying longer than 90 days within a 180 day period, you WILL need a visa. Visit the US State Department for more information regarding traveling to Europe as a US Citizen.
In late-2022, Americans will have to apply for the ETIAS visa waiver before entering the European Union's Schengen Zone. It will be a multiple-use authorization that covers 3 years of travel into the Schengen area.
AT THE HOTEL

When you book your hotel, one thing that is often not included in the rate is the local city tax. This rate varies by city and is calculated by the person and per night. Many hotels have a policy of collecting the city tax in cash at the end of your stay.
Hotels vary by quite a bit in Europe, but here are a few things to be aware of:
In general, rooms, bathrooms, and even beds tend to be smaller than those in America. It's not uncommon to find that some large beds are actually two twin beds pushed together and made as one.


Some hotels will require that you insert your key card into the light switch in order for the lights and electricity to turn on.


Air conditioning is not automatically available at every hotel. Sometimes, even when AC is available, the temperature is controlled by the hotel, rather than by the guest. Some hotels turn the AC on according to a date on the calendar, rather than the actual temperature outside. Generally, these quirks are reserved for small independent hotels rather than larger business, luxury, or chain hotels. Be sure to confirm with the hotel for their AC availability and policy before booking your stay.


Many hotels will offer a laundry service, with an additional fee. Self-service laundry facilities are rarely available on-site, but local laundromats will be easy to find nearby. Another great option: most hotels feature an extendable clothesline in the shower or bathroom. You could wash clothing in the bathroom sink and hang dry. Recommended products:  Tide Travel Sink Detergent and Clothes Pins.
PICKPOCKETS AND CONS

Unfortunately, it is important to be aware of pickpockets in many European cities. Sneaky thieves tend to target tourists in congested areas such as crowded trains, buses, and tourist sites (ie. The Trevi Fountain in Rome).
Here are some tips for staying alert and taking the proper precautions:
Always wear a money belt. Keep your cash, credit and debit cards, and Passport in your money belt and only a small amount of cash in your pocket or purse (easy to access for when you make a small purchase, but small enough that you can afford to lose).
Be sure to use RFID blocking sleeves for your credit cards (note: this particular money belt includes RFID protection).


Be sure to use an anti-theft bag. In general, look for bags that feature locking zippers, RFID compartments, and slash-proof straps and fabric. Travelon makes a wide variety of functional and attractive bags for both women and men.
Be aware that pickpockets dress to blend in – they could be a smartly dressed businessman, a woman holding a child, or a couple dressed as tourists.


Be suspicious of commotions on the street – someone could be creating a distraction while their partner picks the pockets in the crowd.


Avoid signing petitions, playing games, or accepting gifts – thieves will try to draw people close and distract them. Say, "No, Thank you," and decisively walk away.


Do not put your phone down on the table – it is, unfortunately, a common occurrence for thieves to run into a restaurant and grab phones off tables… I've heard this first-hand from multiple restaurant servers.
LANGUAGE

Don't speak the local language? Don't worry – English is widely spoken in large cities and by people working in the tourist trade. However, it is polite to learn basic greetings and polite phrases in the local language and use them when you can. More often than not, they'll pick up that you are not a native speaker and reply to you in English.
If you have difficulty communicating with someone, typically some pointing and speaking with your hands can bridge the gap. But there are now many apps that you can load to your phone that can translate for you (my favorite is Google Translate).
Worst-case scenario – this could actually turn into a fun experience. I once tried to buy cheese at a Parisian fromagerie from a woman that didn't speak English – instead she flexed her bicep to indicate "strong cheese" and held her nose to indicate "stinky cheese." It is one of my favorite memories (and my strong and stinky cheeses were delicious)!
STAYING CONNECTED

It's easier than ever to stay connected while traveling abroad. Options include buying a local SIM card, enrolling in international access from your U.S. cellular phone company, or renting a portable mobile hotspot device. Free Wi-Fi can also be found in hotels, restaurants, cafes, and other public spaces.
Local SIM Card
This is the most economical way to access data and phone service. Simply go to a cellular provider upon arrival in Europe (such as at Vodafone) and ask for a pre-paid SIM card. You could also order an Orange Holiday SIM card (here, on Amazon) and have it installed in your phone before you leave home.

If purchasing in Europe, customer service representatives will go through the options they have available and will help you insert the SIM into your phone. Your phone must be an unlocked cell phone (call your phone company before leaving home to verify that it is unlocked or to have them unlock it for you). Plans and prices vary, but it is not uncommon to find 30-day pre-paid plans for €20 with 10-20GB of data and at least 200 local phone minutes.

The only drawback of the local SIM card is that you will not have access to your US phone number while the local SIM is in your phone (unless you're using a dual SIM phone with an international plan). If you plan to use your phone as a Mobile Hotspot for other devices, be sure to ask if the SIM allows tethering and if there are any limits or additional charges to do so.
Your U.S. Cellular Provider's International Plan
The big 4 U.S. phone companies offer a variety of international travel options. As the plans and offers tend to change, it's a good idea to call your carrier to inquire about the latest options. Currently, both Verizon and AT&T have a daily Travel Pass option that allows you to access your plan's talk, text, and data for $10/day. T-Mobile and Sprint offer global plans that include international access. For more information, this recent article has a more in-depth analysis of the different options available on these carriers.
Mobile Hotspot
Prior to traveling, you may be interested in ordering a portable Wi-Fi device. There are many mobile hotspot providers and plans and prices vary. In general, you can connect multiple devices to one Wi-Fi Hotspot. For families, or those needing to connect multiple devices at a time, (ie. phone, laptop, and tablet) this may be your best option. Check out this thorough review of mobile hotspots.
When connecting to public Wi-Fi, it is a good idea to use a VPN (Virtual Private Network) to protect against hacking. I use ExpressVPN, click here to access my referral code for 30 days FREE. If you plan to stream Netflix, Hulu, and/or Amazon Prime while traveling, having a VPN will grant you access the titles available in the US library and not just those licensed in the country you are visiting.
LUGGAGE

I highly recommend traveling with carry-on sized luggage. The biggest benefit is being able to easily carry these with you down streets, up stairs, onto trains, and into taxis, etc. Of course, you'll also save on hefty airline checked baggage fees.
PACKING ESSENTIALS

Many of us tend to pack way more than we actually need. In fact, less is more. Plan outfits and bring layers. Some things to keep in mind:
Laundry: About half-way through your trip, you might like to send out laundry, visit a local laundromat, or wash and hang dry your clothing in your hotel bathroom (see "At the Hotel," above).


Be prepared: Bring a wrap to cover knees and shoulders when visiting places of worship. Check the weather in advance to see if you should pack a travel-sized umbrella and/or rain jacket.


Shoes: With as much walking as you will probably be doing – comfortable shoes are a must. There are countless resources online that talk about ideal travel shoes, so I'll leave it to clothing experts. My advice is to worry less about looking like a tourist (the fact is, we are…and we'll be among many other tourists in most cases) and more about being comfortable (sneakers, flats, sports sandals (I like these Teva sandals, etc). And from personal experience – make sure the shoes are broken in – new shoes can be a painful mistake.


Power Adapter: Bring at least one or two outlet adapters per person to use in conjunction with a multi-port USB Charger. The USB charger is incredibly handy because most hotel rooms don't have enough power outlets for the modern traveler's many devices. 

A voltage converter is generally unnecessary unless using non-dual voltage items such as, some hairdryers, curling irons, and shavers.
RESTROOMS

Public restrooms, commonly labeled "WC," can be scarce, it is good practice to use the restroom before you leave a restaurant, museum, or other public place that has facilities available for their customer's use.
Unlike in the U.S., it is common to see public restrooms that require a fee to use (on the plus side, these restrooms are usually clean and well-stocked). The fee is usually €.50 or €1 and exact change is required. Keep change handy for this reason.
DINING OUT

Some things to expect when dining out in Europe:
For your best chance of having a quality meal and normal prices, wander away from the main tourist areas. Avoid restaurants advertising in English or with English menus, have menus with pictures, and/or have a salesperson outside ushering you inside.


Table service is slower than it is at home. Dining out is considered an experience to be savored, not rushed, in Europe. In fact, in most cities and countries it is considered rude for them to bring your bill before you explicitly ask for it. If you are under a time constraint, particularly at lunch, let your server know at the time that you place your order.


Servers don't typically engage in small talk and will often expect you to place your drink and food orders at the same time.


Most restaurants will offer you a choice of still or sparkling bottled water. You may choose one of these, or ask for the 3rd (free) option: tap water.


Ice in drinks is rare, but they can usually bring it if you ask. It may only be 2-3 cubes.
Wine and beer tends to cheaper than soda. Sodas don't typically include a free refill.
TIPPING

Tipping customs vary by country. In most cases, rounding up or adding 5-10% for exceptional service at a restaurant is appreciated. Check the menu to see if a service charge is already included.
General Guidelines:
Taxi drivers €1-2
Bellman: €1 per bag
Local tour guides: €2-5 per person
PUBLIC TRANSPORTATION

Buses, trains, trams, and subways are widely used and very economical (but not always the fastest option). Before you arrive, or upon arrival, study a map and learn the stops closest to your hotel. For some cities and itineraries, you may benefit from a multi-day unlimited travel pass.
During rush hours, the public transportation system gets packed. Be sure to stick close to the people you are traveling with. It may be worth implementing a plan for if you get separated (less necessary if every traveler has phone/internet access).
Be sure to validate your ticket upon entry into buses and trams or on train platforms (where applicable). Inspectors can board at any time and require you to show a validated ticket. The fines if caught without a validated ticket can exceed €50.
Taxis tend to be quicker than a bus or train and if you're traveling with 3+ people, sometimes more economical. Getting a taxi is easy – you can either call one yourself, ask a hotel or restaurant to call one for you, or go to one of the many taxi stands found in handy locations in most cities.
Taxi apps, like MyTaxi, are also becoming more common, as is the availability of ridesharing platforms such as Uber. As easy and convenient as taxis are, the drivers are not always honest…be sure to confirm flat-rate fares (such as to/from the airport) in advance. For all other rides, make sure the meter is running and keep an eye out for any unexpected surcharges. Credit cards are usually accepted – if you don't have cash as a back-up, confirm with the driver that he will accept a credit card before your ride begins.
TRAVEL INSURANCE

Only 7% of people regularly purchase travel insurance when going on a trip. And while a quick weekend jaunt to visit family or friends a state or two away probably doesn't warrant the added expense of a travel insurance policy, an expensive once-in-a-lifetime trip to Europe probably does. From lost luggage, to broken arms, to flight delays, travel is full of risks. Simply put, insurance acts as a hedge against risks and travel insurance is no exception.
Much like other types of insurance, travel insurance acts as a safeguard against any possible disasters, accidents, or emergencies that may occur during your trip, or that may cause you to lose your trip altogether.
Because so many crazy things can go wrong out there, travel insurance comes in a wide range of options. It's worth looking into them to know what works before you buy (I will provide options as part of a custom itinerary).
Here are a few main baseline factors to verify, that all travel insurances should cover:
-Medical coverage
-Trip Cancellation coverage
-Lost Baggage coverage
Lastly, you should always look to save receipts and pertinent documentation related to your trip, since insurance companies will ask you to be as thorough and detailed as possible when filing a claim.
Ready to put these travel tips for Europe to work?
I hope these travel tips for Europe have inspired confidence as you prepare for your big trip. When you arrive, you'll probably start to learn and discover new things along the way. Sometimes these discoveries and experiences can be frustrating, but more likely, they will be the very things that enrich your travels and bring you closer to the culture that you came to visit.
As an Itinerary Planner and Travel Consultant, my goal is to give all travelers to Europe the confidence of a repeat visitor. I do this by answering unlimited questions, providing travel tips and advice, and crafting customized itineraries that take the guess-work out of what to see and do and when.
If my travel services are something you're interested in, I'd love to chat with you! We can discuss how I can maximize your time, reduce your stress, and customize a trip exactly to your interests and travel style.
SAVE TIME. AVOID FRUSTRATIONS. EXPERIENCE A BETTER VACATION.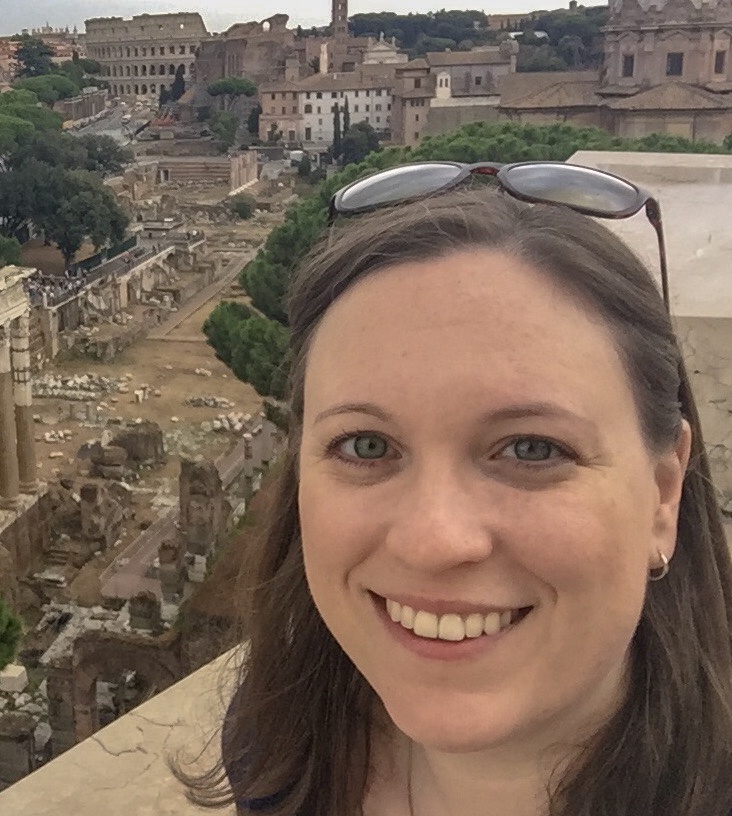 Hi, I'm Cassie! Here at Montage Travel, I'm crafting custom itineraries for independent travelers who want to make the most out of their valuable vacation time in Europe (who wouldn't?).
My mission is to ensure travelers like you save time on planning and experience frustration-free trips with a well-optimized itinerary. Each and every itinerary I create is made from scratch and tailored specifically to your interests, travel pace, and preferences. An optimized itinerary and practical travel advice go hand-in-hand and are essential factors that will determine how much you will enjoy your vacation. Equipped with your own itinerary, you'll see more by visiting sites during less crowded times, you'll know which museums are best explored independently and which are enriched by visiting with a guide, and you'll avoid getting lured into a tourist trap restaurant that will cost you more and be less authentic than the restaurant I'll point you towards just down the street that caters mostly to locals.
Travel with confidence. Itineraries include unlimited revisions and unlimited 1-on-1 travel advice.
Disclosure: The products that I link to are products that I recommend from personal experience and research (none were provided to me for free or for marketing purposes). Please note that as an Amazon Associate, I earn a small commission from qualifying purchases made through the provided affiliate links – and at no additional cost to you.