There are a few essential travel accessories for road trips that I won't leave home without. Read on to see my tried-and-tested recommendations!
As a European Destination Specialist and itinerary planner, I love all of the modes of transportation – trains, cars, ferries, buses… they all offer different experiences for getting around town and for sightseeing.
Road trips in Europe tend to be very rewarding. It's an opportunity to see more of the country you traveled to see – and you'll likely find yourself "discovering" a small town off the usual tourist track along the way.
To make your drives even more enjoyable, I'd like to share with you some of my favorite car travel accessories:
IOTTIE EASY ONE-TOUCH AIR VENT PHONE HOLDER
If you are using your phone for GPS driving directions, having a phone holder for your rental car is really a "must" for safety. There are several phone holders on the market, but the reason I love and recommend this one is:
The vent-mount design makes it very versatile. It will work in just about any car.
The phone holder is compact – making it very easy to pack and travel with.
The "one-touch" attached and release makes it easy to place and remove your phone.
I tried several different phone holder options before finally finding this one. It is the best of the bunch!
SAWAKE CAR HEADREST MOUNT
This is a great accessory for anyone in the backseat – adults and children. Not everyone is going to want to watch the scenery go by during a long road trip. For those people, they may enjoy catching up with TV shows and movies that they've loaded onto their tablet. My favorite features on this particular headrest mount are:
The extension arm and tilt. Kids can extend it fully toward them to reach the controls and the tilt adjusts easily to the ideal viewing level.
The headrest mount design will fit any car headrest. The mount comes with a small wrench that you can use to ensure a snug and secure fit.
The mount will hold a variety of sizes from 5″ to 14″ – smartphones and tablets.
Bonus Tip: Be sure to download plenty of content before you leave home as streaming may be unreliable. Also, if you downloaded content from Netflix or Amazon Prime and experience and issue with playback due to geographical limits on some programming, set your device to Airplane mode and that will fix the problem!
LUMBAR SUPPORT
I always carry a small pillow with me for lumbar support for the airplane. However, I've found it also comes in handy for extra support in rental cars (and trains). If you benefit for a little extra lumbar support, this may be your new essential travel accessory. Reasons why I love this pillow:
An inflatable pillow is more versatile than a solid pillow. You can blow as little or as much air as you need to provide your ideal amount of lumbar support.
The padded cushion increases the comfort level and also makes this a great pillow to use as an actual pillow for your head, too.
The pillow is small and takes up no more space in your bag than your average magazine in size and depth.
CABEAU EVOLUTION MEMORY FOAM PILLOW
This is another travel accessory that I don't leave home without. I usually use it for sleeping on the plane, but it can be useful in the car as well (for those of us that have trouble leaning up against the car window). Things I love about this pillow:
When connecting the front strings together, you can create a snug fit around your neck. This helps to support your head and keep your head from falling forward or straining to either side.
The memory foam can squeeze down small to reduce the amount of space it takes up when you pack. Typically, I leave it outside of my backpack and attached it using the string attached to the case.
For even more space-saving, there's an inflatable version of this travel pillow. I have both and tend to prefer the support the foam provides, but I also appreciate how small the inflatable pillow can get. I choose which one to bring based on the expected length of the flight or drive.
WHAT ARE YOUR FAVORITE CAR TRAVEL ACCESSORIES?
What did I miss? Please let me know in the comments which accessories are a must for your road trips!
SAVE TIME. AVOID FRUSTRATIONS. EXPERIENCE A BETTER VACATION.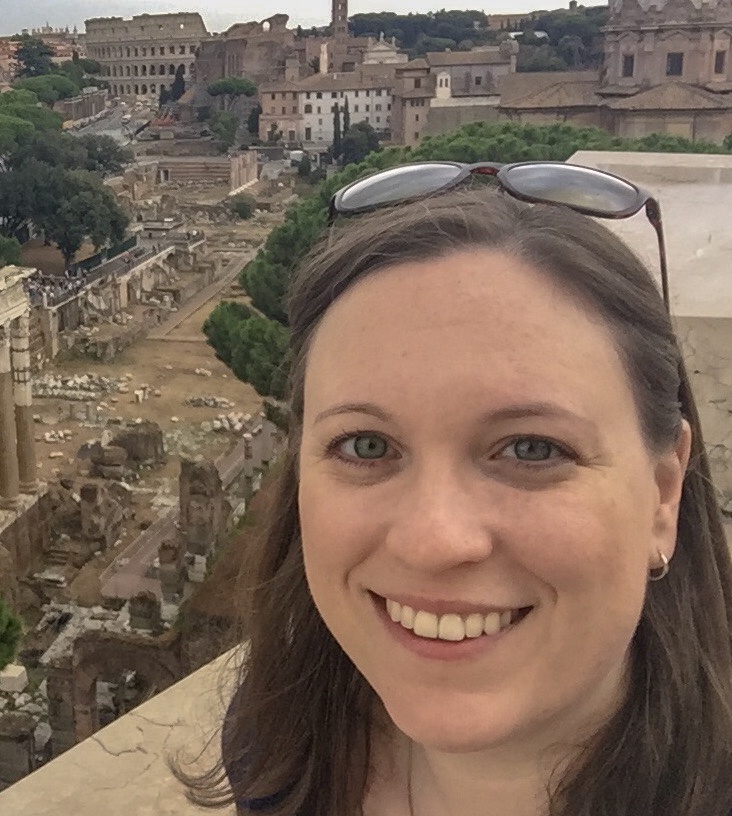 Hi, I'm Cassie! Here at Montage Travel, I'm crafting custom itineraries for independent travelers who want to make the most out of their valuable vacation time in Europe (who wouldn't?).
My mission is to ensure travelers like you save time on planning and experience frustration-free trips with a well-optimized itinerary. Each and every itinerary I create is made from scratch and tailored specifically to your interests, travel pace, and preferences. An optimized itinerary and practical travel advice go hand-in-hand and are essential factors that will determine how much you will enjoy your vacation. Equipped with your own itinerary, you'll see more by visiting sites during less crowded times, you'll know which museums are best explored independently and which are enriched by visiting with a guide, and you'll avoid getting lured into a tourist trap restaurant that will cost you more and be less authentic than the restaurant I'll point you towards just down the street that caters mostly to locals.
Travel with confidence. Itineraries include unlimited revisions and unlimited 1-on-1 travel advice.
Disclosure: The products that I link to are products that I recommend from personal experience and research (none were provided to me for free or for marketing purposes). Please note that as an Amazon Associate, I earn a small commission from qualifying purchases made through the provided affiliate links – and at no additional cost to you.