Ahh, Rome. The Colosseum, the Trevi Fountain, the Spanish Steps, the nasoni. Oh, have you not yet heard of the public water fountains called the "nasoni?"
Summers in Rome can be hot and humid, but thanks to the legacy left by the ancient Romans, you will never be far from a refreshing drinking fountain. These fountains, nasoni (plural) or nasone (singular), can be found serving up a 24/7 supply of clean, cold drinking water throughout the city.
THE STORY BEHIND THE NASONI


"Nasoni" literally translates to "large noses" in Italian, which I am sure you are now looking back at the photo and seeing the connection. Haha!
These stout and round water fountains were first introduced in the 1870's. At first, only 20 fountains were installed. However, during their peak usefulness as a fresh water supply for Rome's citizens, there were about 5000 of them! Today there are still over 2500 throughout greater Rome (about 400 of which are in the city center).
The Romans considered water to be a sacred bounty gifted to them from the gods. They believed that for the blessing of spring water, they needed to show gratitude to the god, Fons. In fact, this is where the name "Fontes" or "fountain" is derived from (a little trivia for you!).
The earlier fountains were created out of practicality, but their unique structures and aesthetic appearance soon turned them into works of art.
These fountains are an integral part of Rome and you will see them everywhere during your visit. To give you an idea, you can expect to find nasoni located near all of the major sights, including in Piazza Navona, by the Pantheon, and several around the Ancient Roman Forum and Colosseum. If you're feeling up for a bit of a scavenger hunt, you will find several of the oldest fountains in the district of Trastevere (literally translated as "across the Tiber").
You will notice the initials S.P.Q.R. carved on nasoni (and on sewer grates) in the city. This is the abbreviation for "Senatus Populous Romanus" or Senate and People of Rome. Today, they are utilized as an emblem of the modern-day "comune" of Rome.
PERFECT FOR TRAVELERS

Travelers benefit from having easy and free access to clean water (no need to buy bottled water from the shop!). You can use the nasoni in two ways: As a drinking fountain (plug the bottom of the "nose" with your thumb or palm and allow the water to spout from a hole at the top, or as a bottle fill-up station using the main spout. When I am in Rome, I always keep a refillable water bottle with me. Whenever I see a nasone, I fill my bottle. I like space-saving BPA-free bottles best and recommend either one of these:
ROME'S NASONI MAP


Want to see the nasoni on a map? There's an app for that! If you'd like to utilize GPS to find the nearest nasone while you are in Rome, I highly recommend downloading the Nasoni in Roma app (available on Apple or Android).
To see a map before you leave home, you may also like to visit Fontanelle.org for their searchable map (preview above).
SAFE DRINKING WATER

The water is delivered to the nasoni from Lake Bracciano, located about 20 miles northwest of Rome, through a series of aqueducts that the Romans built about 2000 years ago. Though restored around the 18th century, I think you will agree that it's impressive that they are still being used!
Lake Bracciano's water consists mostly of precipitation runoff from the surrounding hills and the natural springs underneath the lake. As the source of drinking water for Rome's 3 million residents, the lake is controlled by the government and is protected against. The water remains perfect for drinking: pure, fresh, and without any chemicals or added salt.
WATER IS NOT WASTED

While most of the nasoni have continuously running water, there is a grate that catches the unused water so that it can be recycled. The recycled water is used for gardening, and to run factories and shops. For instance, the Campo de'Fiori's flower market uses the two nasoni present in the square to maintain the freshness of the flowers and plants.
PLANNING A TRIP TO ROME?

Learning about the nasoni and knowing where to find them is going to prove helpful during your summer trip to Rome. I remember my first visit to Rome. It was during a heatwave in mid-June…. I'm not sure I've ever drank more water in my life! I was a relatively inexperienced traveler at the time and didn't know to use the nasoni. That was unfortunate because I was constantly stopping into shops for more bottled water. However, I'm glad for the experience as it now benefits my clients – I am now sure to make recommendations like this so that they don't go thirsty or spend a fortune on bottled water.
As an Itinerary Planner and Travel Consultant, my job is to help travelers experience their trip to Europe in a way that makes them feel like a repeat visitor. I do this by answering unlimited questions, providing travel tips and advice, and by crafting customized itineraries that take the guess-work out of what to see and do and when.
If my travel services are something you're interested in, I'd love to chat with you! We will discuss how I can maximize your time, reduce your stress, and customize a trip exactly to your interests and travel style.
SAVE TIME. AVOID FRUSTRATIONS. EXPERIENCE A BETTER VACATION.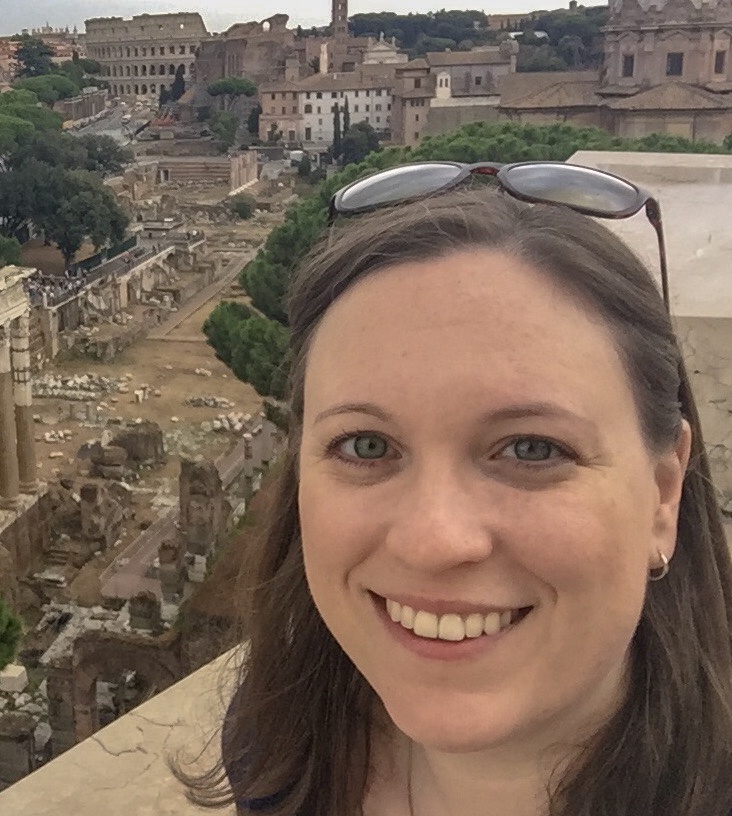 Hi, I'm Cassie! Here at Montage Travel, I'm crafting custom itineraries for independent travelers who want to make the most out of their valuable vacation time in Europe (who wouldn't?).
My mission is to ensure travelers like you save time on planning and experience frustration-free trips with a well-optimized itinerary. Each and every itinerary I create is made from scratch and tailored specifically to your interests, travel pace, and preferences. An optimized itinerary and practical travel advice go hand-in-hand and are essential factors that will determine how much you will enjoy your vacation. Equipped with your own itinerary, you'll see more by visiting sites during less crowded times, you'll know which museums are best explored independently and which are enriched by visiting with a guide, and you'll avoid getting lured into a tourist trap restaurant that will cost you more and be less authentic than the restaurant I'll point you towards just down the street that caters mostly to locals.
Travel with confidence. Itineraries include unlimited revisions and unlimited 1-on-1 travel advice.
Disclosure: The products that I link to are products that I recommend from personal experience and research (none were provided to me for free or for marketing purposes). Please note that as an Amazon Associate, I earn a small commission from qualifying purchases made through the provided affiliate links – and at no additional cost to you.