The architecture of Europe, with all of its history and culture, offers visitors a cornucopia of classic styles to behold.
Architecture, changing with artistic tastes, available technology, building materials, and spiritual beliefs, reflects particular places and times. Europe is unique in that you can travel a relatively short distance and encounter a great variety of well-developed cultures.
A visitor will feel as if they were in an outdoor museum. You can expect to see examples of Gothic, Renaissance, Romanesque, Art Nouveau, Byzantine, Baroque, Neoclassical, Fascist, Modern, Rococo, Palladian, and Victorian architecture.
Wow!
Let's take a closer look at some of the architecture of Europe worth traveling specifically to see.
THE TRULLI – ALBEROBELLO, ITALY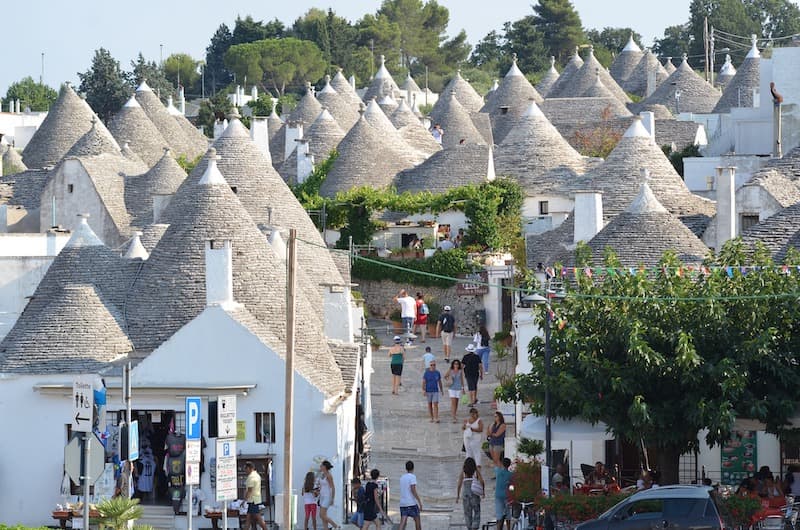 In the Puglia region of Southern Italy, is the town of Alberobello. Visitors from around the world come to the town to see its stunningly unique architecture, the Trulli: cone-roofed and dry-wall constructed without mortar.
Historically, the Kingdom of Naples would tax new settlements. Alberobello residents invented this style of construction out of the need to dismantle structures in a hurry upon inspection.
The trullo are world famous as an extraordinary example of drywall construction. UNESCO has included them as one of the 54 World Heritage sites in Italy. The houses are still used as homes (and souvenir shops) and can also be found, in smaller numbers, in nearby Brindisi, Bari, and Taranto.
BASILICA OF SAGRADA FAMILIA – BARCELONA, SPAIN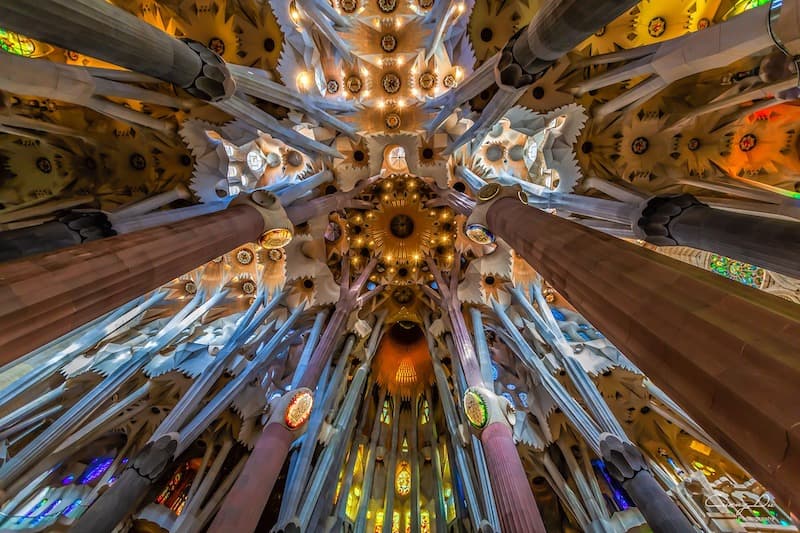 This remarkable and unfinished Roman Catholic Basilica in Catalonia's capital city of Barcelona is a truly unique church. It was designed by famous Catalan architect Antoni Gaudí in his signature Gothic-meets-Art Nouveau style. Construction started in 1882 with an expected completion date of 2026 (100 years after Gaudí's death).
Gaudí's design, based on Gothic and Byzantine traditions, aims to express Christian beliefs and connect visitors with nature through architecture. Because construction spanned over 136 years, the differences between the old and new parts of the building are interesting to explore. The nativity façade and the crypt of the Sagrada Familia were listed as UNESCO World Heritage sites in 1984.
Construction is funded by private donations and through visitor entry tickets and tours. If you are planning to visit the basilica, I highly recommend taking an official tour to greatly enhance your appreciation of the art and the vision of its architect.
THE CUBE HOUSES – ROTTERDAM, THE NETHERLANDS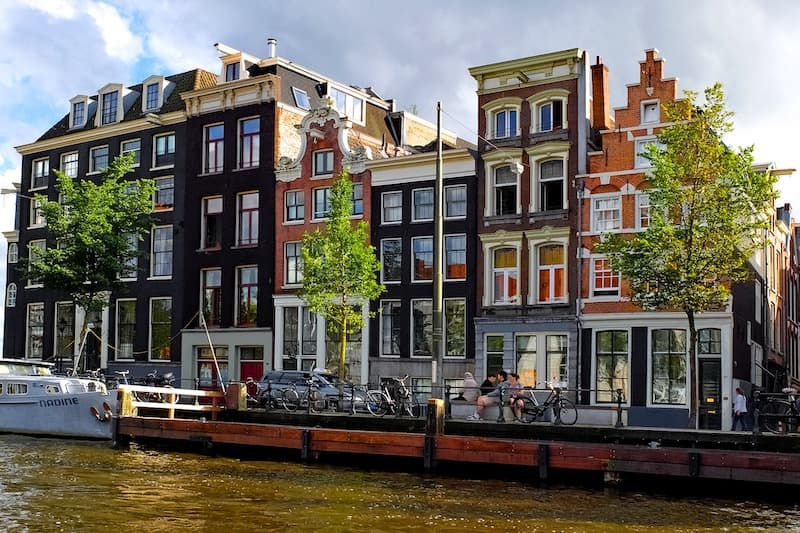 Architecture enthusiasts should be sure add a visit to Rotterdam to their Europe sightseeing must-see list. This port city in the Netherlands is known for its groundbreaking modern architecture that departs greatly from the traditional Dutch architecture found in most cities.
One of the more distinctive architectural achievements is the Cube Houses, designed by the brilliant and innovative Piet Blom. He envisioned the houses as trees and the whole development area as a forest. The Cube Houses are tipped to one side with three sides facing the ground and three facing the sky. Small-scale businesses, shops, a school, and a children's playground are on the promenade below.
Curious tourists and budding architects can visit the inside of one of these houses. The Kijk-Kubus (Show-Cube) is open seven days a week and is easily reached by tram, metro, or bus.
CYCLADIC ARCHITECTURE – SANTORINI, GREECE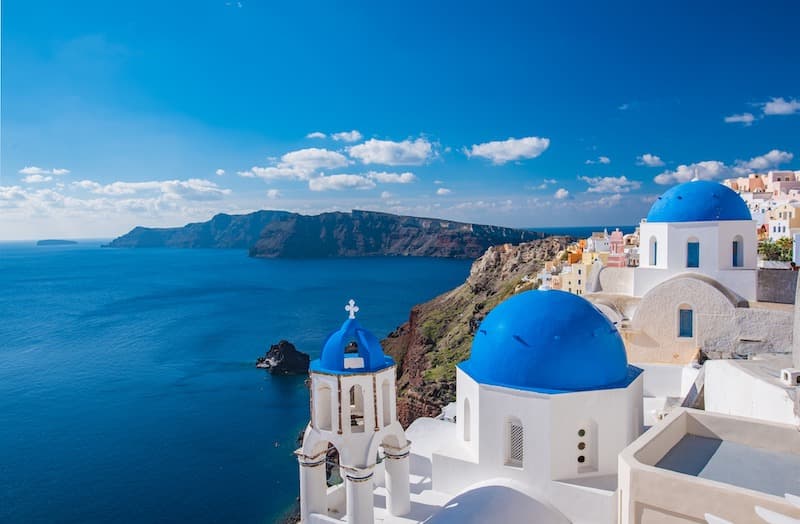 The Cyclades Islands comprise about 220 Greek islands that make up the Aegean archipelago. Featuring blue-domed houses with white walls, cobblestone streets, and windmills, the architecture on these islands is picture perfect.
If you want to see genuine Cycladic architecture in all its glory, then Santorini is a great place to visit. Beautiful rows of white villages (walls and houses) sit atop red cliffs glowing orange gold in the setting sun's rays. The lovely villages of Oia and Fira offer many different attractions such as historical museums, mansions, churches, cobblestone pathways and picture-perfect houses. The houses are characteristically defined by their arches, colorful stairs, vaults, and spotless white walls.
THE DANCING HOUSE – PRAGUE, CZECH REPUBLIC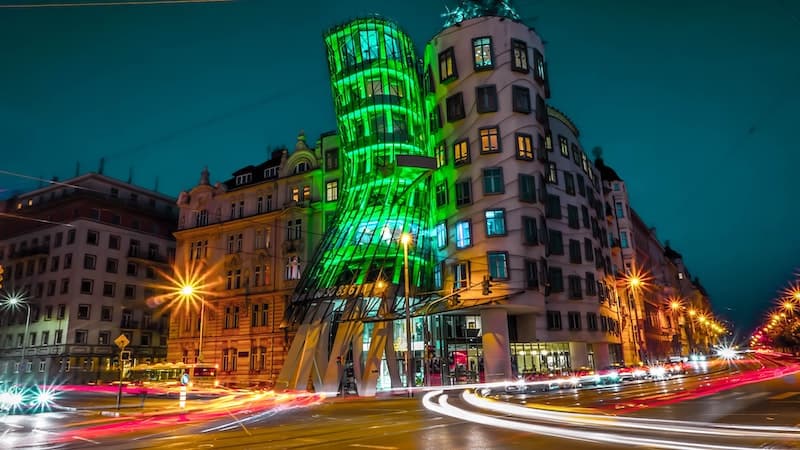 There's architecture that moves you, and then there's architecture that actually seems to move.
Prague's Dancing House, sometimes referred to as the "Fred and Ginger," is one such building.
Now a Prague icon, it's hard to believe this building has only been here since 1996. It was jointly designed by the famous American-Canadian architect Frank Gehry and his Czech partner, Vlado Milunić.
Built in the deconstructivist architectural style, it consists of 99 differently shaped panels plus a signature twisted metal sculpture on top – nicknamed "Medusa."
Architect Frank Gehry's vision for the Dancing House was inspired by the actor-dancer duo, Fred Astaire and Ginger Rogers. He originally wanted to call it the "Fred and Ginger," but later reconsidered.
Visitors to Prague can stay in one of Dancing House's 21 luxury hotel rooms, visit the art gallery, relax on the city view terrace, or dine at the Fred and Ginger Restaurant on the top floor.
It's right along the Vltava River, not far from the famous Charles Bridge, so you definitely won't miss it!
CANAL HOUSES – AMSTERDAM, THE NETHERLANDS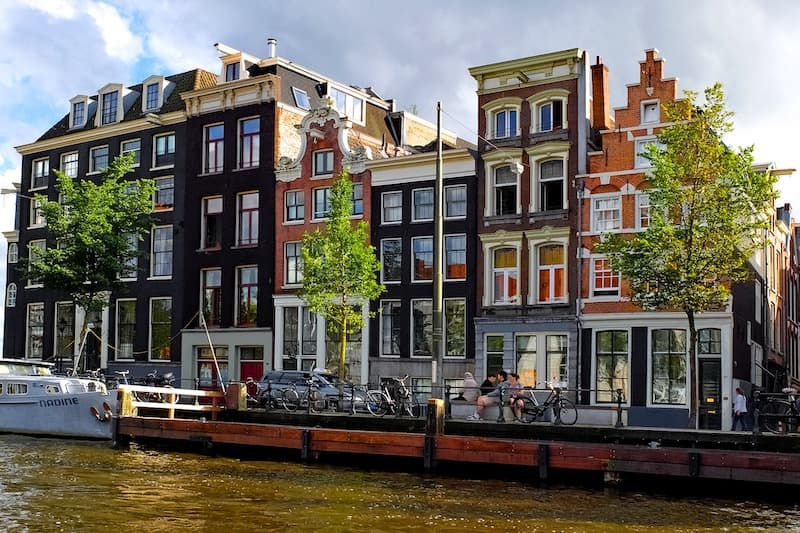 The Dutch are a famously industrious and innovative people. From their engineering to their architectural feats, they consistently showcase their expertise in form and function. When visiting the great canal city of Amsterdam in the Netherlands, you will see the characteristic canal house architecture.
At the time of their initial construction during the Dutch Golden Age of the 17th century, the government levied property taxes according to a building's width. As a way to lower their tax burden, homeowners built their houses tall, thin, and deep. The houses were, and still are, used for residences and workspaces. In this prominent trade city, the basements and attics are used to store goods. Pulley systems placed at the gable hoist products and furniture through the attic's window, something you may get to observe firsthand.
When visiting Amsterdam, you'll have plenty of opportunities to see the interiors for yourself. Shops, restaurants, hotels, and museums all inhabit canal houses, the most famous of which is the Anne Frank House, where the Frank family hid in the attic during the Nazi occupation. In addition to being a sobering memorial, it is a great example of a traditional canal house. (Be sure to note how far back into the house you go until you find the bookcase that hid the entrance to the attic.)
READY TO PLAN A TRIP TO SEE THE ARCHITECTURE OF EUROPE?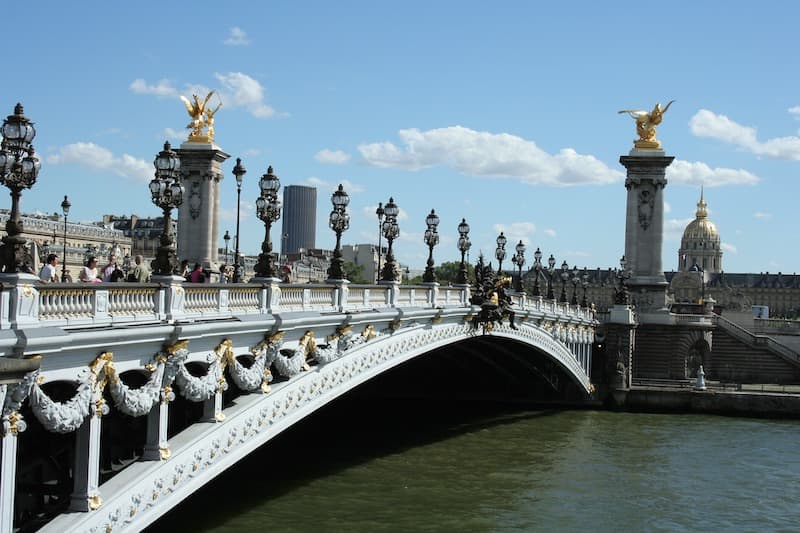 For visitors looking to fully appreciate the art and history of the architecture of Europe, you might like to consider taking an architecture-focused guided tour. There are both group and private options available throughout Europe.
Short tours that may last only a couple of hours can easily be added to an existing travel itinerary to the city you're visiting. (For itinerary help, check out my Custom Itinerary or Travel Consulting service).
There are multi-day tours available as well that may take you to several different cities. (For a trip like this, check out my Tour & Cruise Matchmaking service where I can help you find the right tour.)
Even without a dedicated tour and regardless of where your travels take you, there will be plenty of opportunities to see and enjoy the architecture of Europe.
Not sure where to start? Contact me for a free, no-obligation 20-minute consultation, and I'll be happy to discuss how I can help!
SAVE TIME. AVOID FRUSTRATIONS. EXPERIENCE A BETTER VACATION.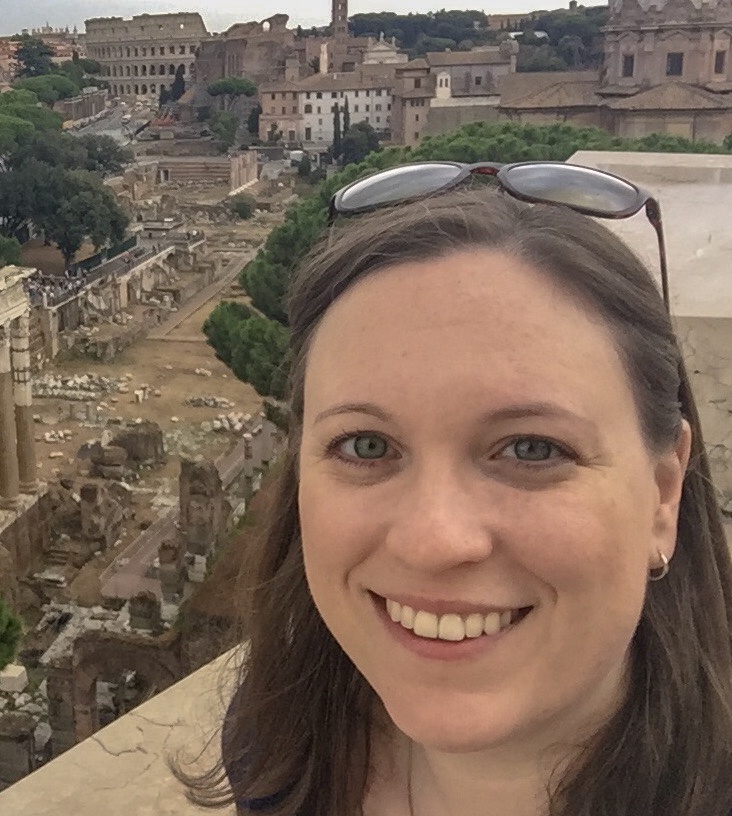 Hi, I'm Cassie! Here at Montage Travel, I'm crafting custom itineraries for independent travelers who want to make the most out of their valuable vacation time in Europe (who wouldn't?).
My mission is to ensure travelers like you save time on planning and experience frustration-free trips with a well-optimized itinerary. Each and every itinerary I create is made from scratch and tailored specifically to your interests, travel pace, and preferences. An optimized itinerary and practical travel advice go hand-in-hand and are essential factors that will determine how much you will enjoy your vacation. Equipped with your own itinerary, you'll see more by visiting sites during less crowded times, you'll know which museums are best explored independently and which are enriched by visiting with a guide, and you'll avoid getting lured into a tourist trap restaurant that will cost you more and be less authentic than the restaurant I'll point you towards just down the street that caters mostly to locals.
Travel with confidence. Itineraries include unlimited revisions and unlimited 1-on-1 travel advice.
MORE FROM THE MONTAGE TRAVEL BLOG
Getting the experience of an authentic afternoon tea in London is one of those traditions that gives a visitor genuine insight into English culture. There …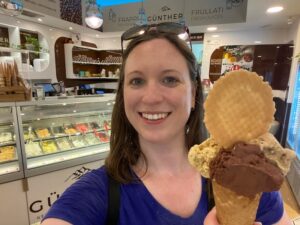 After a whole lot of sampling in the name of research – I love my job! – I'm delighted to share with you 8 fabulous …